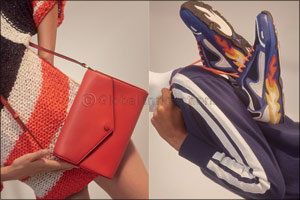 Dubai, UAE, January 10, 2017: It's a bold move, but just right for the season. For its Spring-Summer 2017 collection, Sandro has opted for a perfect trio of pared down, yet eloquent style, technical workmanship and functional comfort - and pulled it off with aplomb. No longer confined to the supporting cast, these accessories are playing a leading role: awakening unexpected desires and taking the silhouette to places we never dreamed of.
The models taking centre stage in leather goods are bold and self-assured. The Lou, for example. This bag combines a pure look with surprising sophistication. Smooth leather, precision topstitching, f loral curves and playful inside pockets with triangular cut-outs and a suede feel. Shapes which also feature inside the Bonnie. With a resolutely graphic design, it's the product of perfectly matched contrasts: curves that turn into squares, eyelets that blend with metallic bars and multiple materials that still come together seamlessly. The rivets shine and the gussets emphasise the depth of this bag which has such a distinctive shape. Every one of this season's bags has its own identity, but they clearly carry the same DNA: an unforgettable structure and special attention to detail. The roundness of the Bonnie Roundy, the femininity of the Abby satchel bag, the laid-back look of the Jilou purse, the inside compartments of the Pola pouch, the grained leather and coated press stud of the Bianca. The name of the maison is embossed on the leather and engraved on the metallic elements, a signature of Sandro leather goods.
The shoes are so captivating, they make you want to race towards summer. The Flame trainers are dressed for a fiery entrance, with their striking f lame motif. Added to their piquant style is technical expertise: the soles have been made using several different moulds. At the heart of the collection, the stars have come out for mules, riveted or in the form of embroidered badges. In leather or suede - a nod to the leather goods. And sporting the colours of the Stars and Stripes - a wink at ready-to-wear. Icons of the maison with legendary standing, its sandals are bringing out their ankle straps or getting all dressed up in specchio, to create designs that are electric. Electric describes the summery mood of the Sacha boots perfectly - they're back, in gold leather with a round, lightened wood heel. Featuring a variety of styles, playing multiple roles, Sandro shoes make an elegant, charismatic fashion partner for today's woman. A collection inspired by freedom and passion, a fresh interpretation of the signature style of the maison.