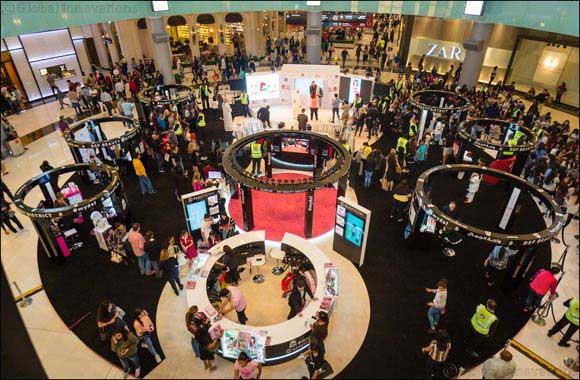 Exclusive Beauty Boxes, celebrity mak-eup artists and Q&A sessions are all part of the nine-day experience taking place at The Dubai Mall
Dubai, UAE – 7 January 2017: The Beauty District is back for a second year to help shoppers discover the latest in beauty secrets from the world's foremost experts.
DSF 2017 is offering nine days in which to learn exactly how to apply make-up to perfect that special look. Larger in size than last year, The Beauty District will be nearly 500 square metres and offer tutorials and Q&A sessions among its many other attractions and events. It all starts on 6 January and runs to 14 January at The Dubai Mall during the 22nd edition of the Dubai Shopping Festival.
Within The Beauty District, exclusive beauty experiences will be on offer from Shiseido, MAC, Inglot, Clarins, Keihl's, Galeries Lafayette and Paris Gallery. During the event, there will also be a range of activations from Sephora, The Nail Spa, Urban Decay, Benefit and Giorgio Armani. In addition, the exclusive Beauty Box consisting of a hand-picked range of beauty and perfume products will be available to those lucky shoppers who take advantage of this once-a-year event.
The Beauty District, part of DSF's Beauty & Perfume Platform, is also excited to introduce new products from the Asian market as well as the exclusive launch of a new perfume.
With scheduled Q&A sessions with some of the world's best-known makeup artists, The Beauty District is a wonderful opportunity to learn from professionals and discover their secrets. Also on hand will be international, regional and local beauty influencers who will advise how shoppers can find out what works best when trying to get that special look.
Beauty retailers will provide beauty experiences at their individual stations in The Beauty District, while paparazzi booths will complete the beauty experience with participants being photographed after having had their make-up applied.
Don't miss this chance to pick up some great insight from celebrity make-up artists, benefit from exclusive offers and learn the latest beauty and makeover tips.
Come in, wander around, pick up tips, get a makeover, pose for a picture and take advantage of expert knowledge from make-up artists who help the world's biggest international and Arab World stars achieve their signature looks.