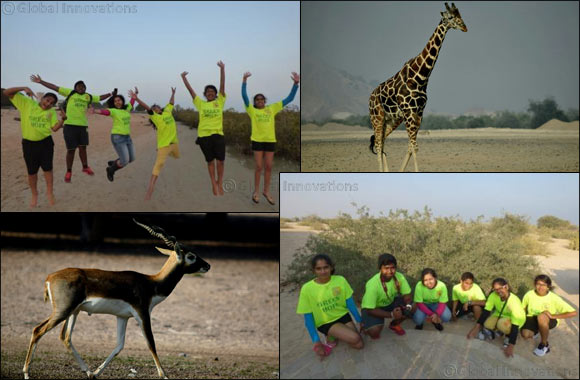 Dubai, UAE, January 5, 2017: With the global population exceeding 7 billion, our planet's flora and fauna are under severe threat due to over consumption and human encroachment. The destruction of natural habitats is one of the main causes in the decline of dependent ecosystems. Raising awareness of habitat conservation amongst civil society stakeholders is the only way to mitigate this threat.
As future generations , young people are at risk of inheriting a barren planet and therefore the onus is upon us , children and youth , to get actively involved in the process of stakeholder engagement in raising awareness and bring about change.
With this objective in mind , youth sustainability organisation Green Hope orgainsed a field trip to Sir Baniyas Island - which is UAE's main protected reserve with an amazing array of flora and fauna. The conservation efforts on this island is a model for other regions to follow. Leaving from Dubai a 4.30 in the morning , the Green Hope team reached Sir Baniyas Island after a grueling 5 hour journey to learn first-hand about their importance and ways to aid their conservation.
It was a day of amazing insights for the young eco-warriors who learnt about the unique conservation efforts being undertaken on the island for several protected species such as the Sea Turtles, Sand Gazelles, Urial sheep, Barbary sheep and Arabian Oryx. The group will also planted mangroves as part of the natural history tour.
The island is a model of eco-balance with all its waste being treated sustainably using natural reed-beds.
The Green Hope team will now hold a series of awareness workshops amongst its members and volunteers across the region to promote the need for biodiversity conservation based on their learnings of this field trip.