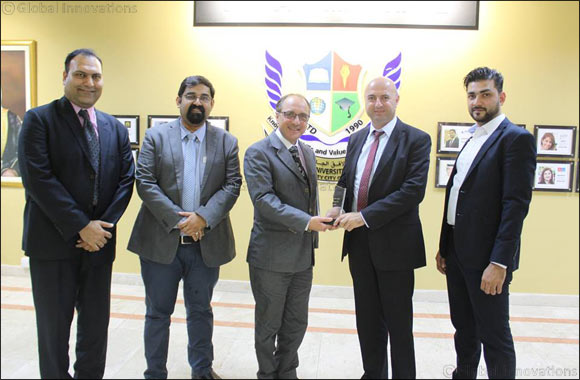 Dubai, UAE, December 7, 2016: Skyline University College (SUC) signed a memorandum of understanding (MOU) with eDurar on November 14, 2016, at SUC campus. SUC Deputy Director for Marketing and Public Relations, Mr. Firas Al Tabbaa and eDurar CEO, Mr. Mohammad Miqdadi signed the MOU on behalf of their respective parties. eDurar Relationship Manager Mr. Burhan Qazi, SUC Corporate Affairs Head Mr. Muhammad Rasheed Khalid, and SUC Associate Professor Dr. Riktesh Srivastava stood witness of the partnership made.
The highlights of the MOU are a 1 million worth of scholarship grant to eDurar employees, community engagements on corporate social responsibility initiative of both organizations, career opportunities that include campus recruitment and internship programs, case study development, program reviews, and use of facilities among others.
eDurar is a company that provides online and offline business solution from marketing and business consultancy services to database management through physical visits.
This MOU is expected to broaden each company's scope in their respective industries and aims at benefiting students to develop their professional skills in their chose fields.
The MOU is under the coordination of Corporate Affairs Office headed by Mr. Muhammad Rasheed Khalid.