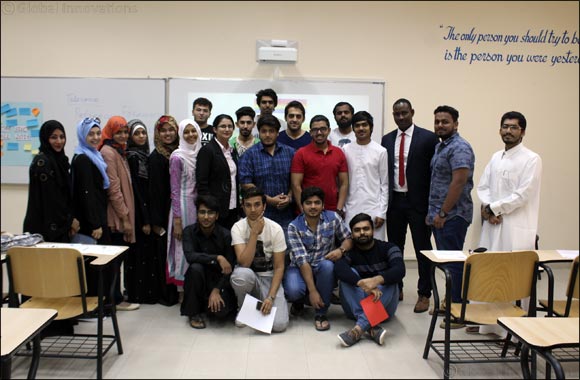 Sharjah, UAE, November 23, 2016: Skyline University College (SUC) celebrated the International Day of Tolerance on November 16, 2016 as part of the National Tolerance Program of the UAE Charter of Tolerance, Coexistence, and Peace under the office of Her Excellency Sheikha Lubna Bint Khalid Al Qasimi, the first Minister of State for Tolerance in the world.
SUC Assistant Professor, Dr. Kakul Agha gathered freshmen students and conducted a workshop that aimed at helping the students understand the importance of tolerance and why this is essential in promoting coexistence, acceptance, and respect among races. At the end of the workshop, the students expressed their hope, enthusiasm, and willingness to help break the notion of intolerance by raising awareness and continuous effort to practice tolerance in everyday life.
"Skyline University College for the last 26 years takes pride in its diversified student body. Today, we have over 50 nationalities studying in the university and over 20 nationalities are represented in faculty and staff. We consider tolerance from the point of view of respect for the viewpoint of anybody and everybody irrespective of race, gender, faith and physical abilities as a practicing institution of higher education. This is followed as the ethos of UAE where over 200 nationalities are living peacefully, cooperating with each other in all spheres of life. We wish this continues as an example for all country in the world," said SUC Dean, Dr. Amitabh Upadhya.
Given its multicultural environment, SUC has been consistently advocating harmonious comradeship within its workforce and student body while at the same time fulfilling a value-based education in compliance of its mission, vision and goals.