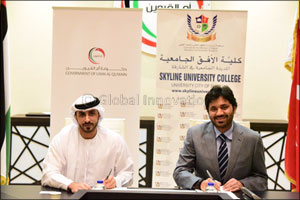 Sharjah, UAE, November 10, 2016: Skyline University College, Sharjah marked another partnership with the Government of Umm Al Quwain Executive Council on a memorandum of understanding (MOU) signed on October 31, 2016. H.E. Humaid Rashid Al Shamsi, Secretary General of the Executive Council of Umm Al Quwain, and Mr. Nitin Anand, SUC COEC and Executive Director signed the MOU and confederated their respective parties on several areas of cooperation. Together with the COEC is SUC Deputy Director for Public Relations Mr. Firas Al Tabbaa who coordinated the MOU and stood witness of the partnership made.
The highlights of the MOU are a 2.5 million-scholarship grant by SUC for the Government of Umm Al Quwain Executive Council staff and their families, community engagement of both parties in their respective Community Service activities, support in different communication platforms, professional workshops, and use of facilities.
With its significant ties with the government sector, SUC remains committed to provide not just quality education but access to education for all. SUC is dedicated to create more partnerships in the future for the students' educational benefits. SUC continues to pursue its persistent effort to sustain quality education and training for its students and partners; thus, creating an environment that caters to the need of the society.