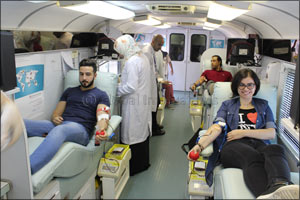 Sharjah, UAE, October 31, 2016: Skyline University College (SUC) organized a Blood Donation Camp in cooperation with the Ministry of Health in Sharjah at SUC campus on October 23, 2016.
The students, faculty, and staffs have participated in the event and generously poured out their blood donations, which will greatly help those in need.
The objective of organizing this campaign is to foster among SUC staff and students the importance of helping and reaching out to the people in need of care and compassion. SUC Services Committee is committed to coming up with campaigns and community services as part of SUC's corporate social responsibility in the society. This event also aimed at engaging the students in different activities outside the campus and instilling in each student's mind the value of lending a helping hand to the less fortunate people.
The organizing committee includes faculty members Dr. Mohammad Abdul Salam, Chair of Services Committee; Dr. Mahesh Agnihotri, Coordinator of Services Committee, and Dr. Sharon Mendoza Dreisbach.