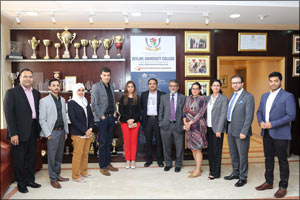 Sharjah, UAE, October 20, 2016: The 3rd Inter-School Young Business Talent Hunt (YBTH) 2016 held at Skyline University College (SUC) campus on October 18-20, 2016 has garnered an overwhelming participation of more than 1,200 students competing in three categories of Advertisement Design, New Business Plan, and New Mobile Application.
The competition has attracted an enormous response from schools in UAE, about 291 competing teams in this 3-day event.
"The competition aims to challenge high schoolers to gain real-world opportunities and skills. Every year, TYV and SUC together provide a platform for students to demonstrate their business ideas and strategies. This event helps them to explore their hidden talents and encourages them to network with business experts and peer groups which help them to add value to the business plan," says Dr. Namrata K. Pathania, TYV Founder and Editor.
In line with SUC's mission of providing quality education, the young business talent aims at harnessing the knowledge of the students while at the same time inculcating the value of hard work in academics and extra-curricular activities. SUC COEC Mr. Nitin Anand states, "SUC, in pursuance of its mission, has always supported and encouraged young people to express their talents in ways which they can improve and develop their entrepreneurial abilities, their innovative thinking, and their power to create and execute ideas."
The success of the competition would not be possible without the participation of the esteemed line of external and internal judges and the staff of SUC and TYV. The 3rd Young Business Talent Hunt 2016 is a joint event partnership of Skyline University College and The Young Vision Magazine.
SUC Signed an MOU with Sheraa at YBTH 2016 event
Following the awarding ceremony of YBTH 2016, SUC marked another beneficial collaboration with Sheraa (Sharjah Entrepreneurship Center) on a memorandum of understanding (MOU) signed on October 20, 2016. SUC COEC Mr. Nitin Anand and Sheraa General Manager Ms. Najla Al Midfa signed the MOU on behalf of their respective organizations. This promising partnership highlights a supportive cooperation between SUC and Sheraa in all communication platforms, support in events and workshops, and access to join each organization's activities on and off campus in the future.
Kotler Business Program (KBP) Launch
The announcement and launch of the new Kotler Business Program (KBP) offered at SUC in partnership with Kotler Impact Inc. also took place at the last day of YBTH 2016. KBP is the only global business program under the brand name of a management guru, Philip Kotler that offers first class education in countries across the globe. SUC Dean, Dr. Amitabh Upadhya briefly introduced the program and its relevance in today's education. SUC is privileged for this collaboration with Kotler Impact Inc. and to offer such premier program that will undoubtedly change the students' learning experience online.