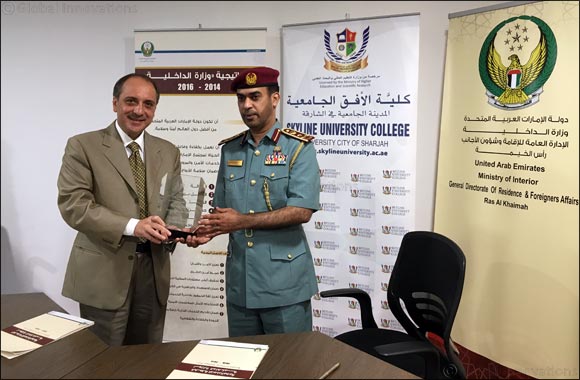 Sharjah, UAE, October 6, 2016: Skyline University College (SUC) signed a memorandum of understanding (MOU) with Ras Al Khaimah Residency and Foreigner Affairs on September 21, 2016.
SUC Deputy Director for Marketing and Public Relations Mr. Firas Al Tabbaa and H.E. Brigadier General Yousef Sultan Al Nuaimi, General Director of Ras Al Khaimah Residency and Foreigners Affairs signed the MOU on behalf of their respective organizations.
SUC and RAK Residency and Foreigners Affairs agreed on future collaborations such as 1.5M scholarship grants, community engagements, use of facilities, workshops, and trainings among others. This partnership is projected to grow not only in terms of corporate relation but also in terms of educational and professional development of SUC students.
SUC's collaboration with the government sector opens a wider scope from which student can learn and expose themselves to opportunities as well as gain an outsource knowledge.