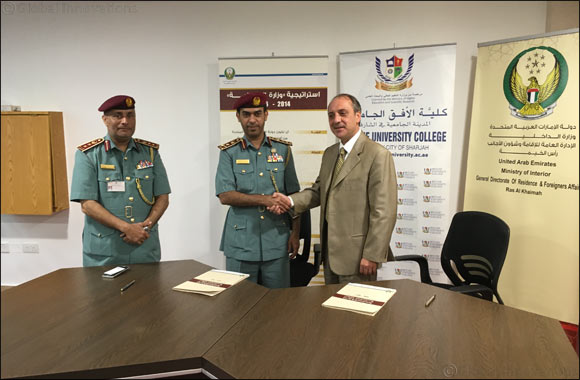 Sharjah, UAE, September 29, 2016: Skyline University College (SUC) marked another partnership with Ras Al Khaimah Police on a memorandum of understanding (MOU) signed on September 7, 2016. SUC Deputy Director for Marketing and Public Relations Mr. Firas Al Tabbaa and H.E. Major General Ali Abdullah Bin Alwan Al Nuaimi, Commander General of Ras Al Khaimah Police confederated their respective parties on several areas of cooperation.
Both parties agreed to support each other's endeavors such as a 2.5M SUC scholarship grant to Ras Al Khaimah Police staffs and their families for BBA and MBA programs. Future collaborations of both organizations also include professional workshops, use of facilities, and community engagements among others.
With its significant ties with the government sector, SUC remains committed to provide not just quality education but also access to education for all. SUC is dedicated to create more partnerships in the future for the students' educational and professional development.