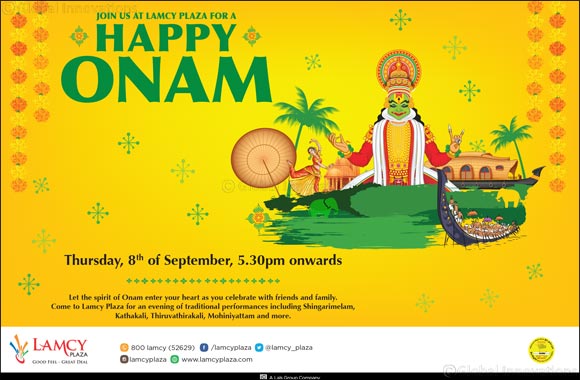 The grand annual celebrations for Onam will take place at Lamcy Plaza on & September 8th.
The annual festivities will commence at Arabian Center on September 9th.

Dubai, UAE, September 10, 2016: Celebrating the homecoming of the legendary king Mahabali, the Kerala harvest festival Onam is back with all the pomp and glitter this year at Arabian Center and Lamcy Plaza. Signifying the first month of the Malayalam calendar, the annual Onam celebrations will take place at Lamcy Plaza on September 8th while Arabian Center will commence the festivities on September 9th.

Expected to be brighter and bigger, the Onam festival will be marked with traditional art and cultural entertainment events as Kathakali, Thiruvathira, Shingarimelam, Mohiniyattam and much more at both the two malls. In addition, Arabian Center will host a special 'Pookalam Contest' and other events for the families. The Pookalam contest will oversee ten families competing with each other as they develop intricate and beautiful designs of fresh flowers.
Boasting an assortment of traditional elements, this year's celebration will be held on a grand scale starting with traditional dances, songs by professionals, mimicry, skits, game shows and contests, which is the hallmark of the festival.

Commenting on the event, Mr. Tim Jones, COO, Arabian Center and Lamcy Plaza said, "We have been celebrating Onam every year in style, but the festival gets more colorful with the pass of each year. This year the cultural extravaganza will feature man-made elephants, drum beats traditional programmes and other fun and entertainment activities. The response that we've received from our patrons over the years has been overwhelming. These are occasions when we get an opportunity to be closer to the community. We have identified Onam as a cultural occasion for the past four years and aim to continue the positive momentum in years to come."

Onam is the largest festival in the Indian state of Kerala. The festival lasts for ten days and is linked to many elements of Kerala's culture and tradition. Intricate flower carpets, elaborate banquet lunch, snake boat races, Puli Kali, and the kaikottikkali dance all play a part in the festival.