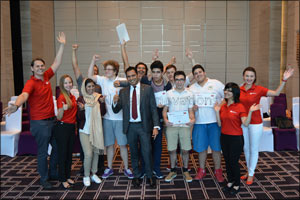 Dubai, UAE, June 1, 2016: Zaid Maleh is the CEO of DACH Advisory, a fully-fledged investment and project-management firm headquartered in Dubai with offices in Vienna and Moscow. Maleh has led the establishment of a state-of-the-art branch campus of Austria's leading private university in Dubai. With over 100 years of academic excellence, MODUL University is the world's oldest and only institution offering degrees in the tourism and hospitality industry from the age of 14 to PhD.
'Hospitality by our definition is 'passion for service'. In Austria, we grow up with hospitality from a very early age. It becomes part of every youth's DNA and this is basically reflected in MODUL University as well,' said Maleh. 'The college of MODUL was founded back in 1908 and it's all about providing hospitality degrees for pupils from the age of 14 onwards. So, for us, hospitality is an integral part of society and it needs to be cherished and lived from a very early age in order for it to be sustainable.
'When looking at Dubai and the UAE in general, which has positioned itself as a major hospitality and tourism hub not only in the region but to the wider global audience, we feel that the same DNA needs to apply,' Maleh added. 'The growth in the sector over the last five years has been quite impressive and what the UAE government is doing to sustain this growth is magnificent. We definitely would like to be part of it and therefore we feel hospitality is a very rewarding sector to be in at this point in time'
'Looking at the current offerings in the UAE, we felt there was an obvious gap to address that vocational opportunity. This is where MODUL comes in to bridge that education gap between theory and practice,' said Maleh. 'A recent offering that we have launched is 'Hospitality Backstage'. Basically, we take high-school students backstage into hospitality. We take them to our partner hotels and show them the kitchen; make them cook their own meals and serve them; take them to the laundry department; to the back offices to do bookings and show them what it takes to run a five star or luxury hotel.' 'It makes them fully appreciate what goes on behind the scenes. This program has been very well received, not only by the schooling community but also by our partner hotels. They recognize that teaching kids about hospitality and its real values makes it an attractive place to consider in terms of working in the future. This is the mission that we bring to the table at MODUL.
Maleh continued: 'Last year in the UAE, more than 530,000 jobs were created in the hospitality sector, which makes it the largest employer by far and the biggest contributor to GDP. However, if you look at higher education only 1% of the students elect hospitality as their future study program — and this does not make sense. 'Looking at MODUL's career center and its alumni, a lot of people started in the hospitality sector and then ventured out to become fully-fledged managers, working in marketing, other areas of business, or becoming entrepreneurs etc. 'No other industry does that as well as hospitality,' insisted Maleh.
'Expo 2020 is one of the reasons why MODUL University elected to come to Dubai. Owned by the Chamber of Commerce, it is a big step for MODUL University to go outside the borders of Austria. 'Expo 2020 has been a magnificent boost to that decision-making by the Chamber. We are already in touch with the Expo 2020 committee, and we are exploring a mutually beneficial collaboration of opportunities. We think with the Expo coming to Dubai and the target of having over 1,000 hotels here by then grants us an extraordinary opportunity and we are very happy to be part of it,' explained Maleh. 'The time to employment of MODUL graduates has been just three months on average and this is quite impressive. Here in Dubai, we are owned by Dubai Investments, so obviously we have very strong ties with the industry and will aim to capitalize on that and replicate the success that we have back in Austria,' Maleh promised.