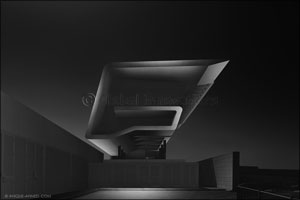 Dubai, UAE, May 31, 2016: Anique Ahmed, a graduate of the Bachelor of Architecture program at Canadian University Dubai (CUD), has added a La Grande Photo International Photography Award to his growing portfolio of industry accolades, taking first place in the architecture category of the annual artistic photography competition.
Judged by a panel made up of some of the leading photographers, curators and publishers working in the discipline, Anique stood out among an international field of amateur and professional competitors in the contest with his image 'G', a unique portrayal of the Dubai Autodrome. Anique will now see his work featured among the centerpieces of a publication that accompanies the competition.
Speaking about the inspiration for his award-winning image, Anique said, "This architectural piece caught my eye when I was driving past Dubai Autodrome and at that moment I knew I could create something of it; but it did take me a few weeks to decide how I wanted to process this image.
"I think it's got something to do with being an architect. As an architect and an architectural photographer, I am always drawn towards details in design. Ever since I shifted focus to black and white fine art photography, I see things from a different perspective. I am able to express what I feel and see by processing the image in a certain way, and using light and shadows I can create a 3-dimensional feel."
As well as taking the architecture photography title, another of Anique's photographs was also honored in the La Grande competition. His image 'Vertex', which features the UAE Pavilion created for the 2010 Shanghai World Expo – a building that Anique describes as architectural masterpiece – won him the High Distinction accolade in the same category.
Having only taken up fine art photography around a year ago, Anique has already won eight international awards for his image, 'G'. He has also won an International Fine Art Photography Award for his striking photograph of the Dubai skyline, entitled 'Glacial Storm' and has seen his work exhibited at the Fotoloft Gallery in Moscow.
Speaking about his latest accolade, Anique concluded, "It is an absolute honor. I am titled the Architectural Category Winner of these awards and I would not ask for anything more."