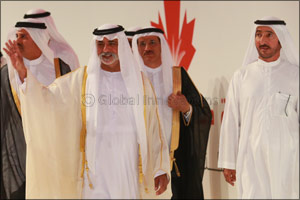 Graduation ceremony takes on a family feel as siblings celebrate their success together
Dubai, UAE, May 1, 2016: His Excellency Sheikh Nahyan Bin Mubarak Al Nahyan, Minister of Culture and Knowledge Development, has presided over the 6th convocation of Canadian University Dubai (CUD) in a ceremony that commemorated the 10th anniversary of the University's establishment in the UAE.
Alongside the anniversary celebrations, this year's event had a genuine family feel, as several sets of sibling celebrated their success together. The ceremony also saw The Honorable Jean Charest, 29th Premier of Québec and former Deputy Prime Minister of Canada, receive an honorary doctorate degree.
Accepting the award, Mr. Charest said, 'I have dedicated my political life to the idea of Canada and for this reason, I am deeply honored to receive this doctorate from CUD. On the surface, Dubai and Canada seem worlds apart, but they are moving forward in the same direction.
'Both are countries of great diversity, standing out in the move towards a knowledge based economy and promoting the movement of people. CUD is the strongest symbol of the shared values between Canada and the UAE.'
University Chancellor, Mr. Buti Saeed Al Ghandi; Vice-Chancellor and President, Dr. Karim Chelli; Canadian Ambassador to the UAE, His Excellency Dr. Arif Lalani; and the CUD Board of Trustees, also presided over the graduation ceremony, which this year saw the award of 466 degrees.
Among the siblings graduating in front of a full-house at Sheikh Rashid Hall, Dubai World Trade Centre, were brother and sister Shaikh Abdulaziz Humaid Abdulaziz Al Qassimi and Shaikha Amna Humaid Abdulaziz Humaid Al Qassimi, both being conferred with a Master of Business Administration in General Management.
Speaking about her experience, Shaikha Amna said, "My educational journey in CUD started after a short conversation I had with a person who holds a special place in my heart; my eldest brother Abdulaziz. By challenging ourselves and passing through this life-chapter together, we've flipped pages and made a book of memorable moments that we'll cherish for as long as we live. Our journey as siblings continues beyond CUD. Whenever one of us gets lost in the maze of life, the other one will figure out a way to guide the other out."
Meanwhile, it was a triple celebration for the Theyab family, with brothers Moath and Saif, and sister Eman all graduating from the same program on the same day. The three Bachelor of Communications graduates followed in the footsteps of their older brother, Kamel, who completed his MBA at CUD.
Moath revealed, "It has been a long journey to reach this day, but to share it with my brother and sister has been a real motivation. We have been lucky to be able to work together, share our ideas, and also to experience the highs and work through the lows together. Today is a proud day for all of our family."
Before conferring degrees upon the graduates, HE Sheikh Nahyan congratulated the entire CUD community, saying, "This year's graduation ceremony is particularly important in the history of this university as we celebrate ten successful years, during which it has established itself as an essential part of the educational structure in the United Arab Emirates. I congratulate all members of the university community, and thank them for their efforts in making this university an important part of the knowledge society."
Addressing the graduates, he said, "I would like to remind you today that graduation from university is the beginning of a new phase in your life. You are all, with the help of God, a source of pride to the university, and the city of Dubai, and the UAE, and today we express our full confidence in your high levels of qualification and initiative, outstanding performance and ethical conduct, and I pray to God Almighty to grant you success and to achieve, each one of you, all of your aspirations for success and excellence."
Speaking on behalf of the graduates at the ceremony, Bachelor of Architecture major, Reem Sultan Saeed Al Mansoori, said, "I must express what a great honour it is for us to become members of the Canadian University Dubai class of 2016. Not only do we celebrate our personal journeys to success, but we also share in the pride of the entire university community, as we mark the tenth anniversary of this great institution."
Paying tribute to the wise leadership of His Highness Sheikh Khalifa bin Zayed bin Sultan Al Nahyan, President of the UAE, His Highness Sheikh Mohammed bin Rashid Al Maktoum, Vice President and Prime Minister of the UAE and Ruler of Dubai, Sheikh Mohammed bin Zayed bin Sultan Al Nahyan, Crown Prince of Abu Dhabi and Deputy Supreme Commander of the UAE Armed Forces, and the Rulers of the Emirates, she concluded, "I am ready to become a contributing member to the UAE society and pledge to represent my country and CUD in the foremost possible way that would make my family proud of me."
About Canadian University Dubai
Canadian University Dubai (CUD) was established in 2006 to deliver high-quality undergraduate, graduate, continuing education and corporate training programs in the UAE, and also provide a gateway for students to pursue higher education opportunities in Canada. CUD is located in the heart of Dubai's downtown business district and each of our academic programs is based on Canadian curriculum and education principles. This gives students the opportunity to obtain a Canadian education while experiencing the unique culture and values of the United Arab Emirates. With over 100 different nationalities that call our University home, our diverse student community is building bridges across cultures and continents in one of the world's most dynamic cities.
For more information, please visit http://www.cud.ac.ae/ or follow us on:
https://www.linkedin.com/company/canadianuniversityofdubai
https://www.facebook.com/Canadian.University.of.Dubai
https://twitter.com/@cuduae
https://www.instagram.com/canadianuniversitydubai/
https://www.youtube.com/user/webcud
http://www.cud.ac.ae/contact/connect-with-cud/snapchat