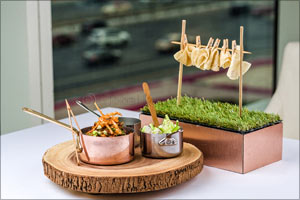 Inviting all lovely ladies to explore Indian cuisine with a contemporary twist at Trésind
Dubai UAE, November 23, 2015: At the pinnacle of fine dining experiences, Tresind is calling all the ladies to pamper them with an impeccable lunch with a carefully crafted spread, much to satiate their gourmet indulgences. With over 30 dishes to pick from, you will be spoilt for choices to accompany those carefree banters, with a refreshing new lunch menu, available four days a week, exclusively for ladies. The special Ladies Who Lunch spread will showcase distinctive, rich, authentic Indian dishes like jalebi chaat, dahi bhalla ice-cream, chili hoisin duck khurchan, amritsari soft shell crab, juhu chowpatty tawa pulao, among several others in indulgent portions, providing guests a unique blend of alluring flavours to stimulate their palette with a glamorous modern Indian twist.
Each dish on the intricately designed menu is a melody of the best available ingredients and creative presentation, luring any food lover to indulge in a modern Indian fiesta.
For the convenience of guests, a copy of the menu will be shared by restaurant, for them to shortlist their desired dishes, so they can sit back back and enjoy their lunch from the first course to the last.
Timings: 12:00pm – 3:30pm
Served: Sunday to Wednesday, bookings with 24hrs prior notice
Location: 2nd Floor, Nassima Royal Hotel, Sheikh Zayed Road
Inclusions: A scrumptious spread of over 30 delectable dishes to pick from for AED 120++
One complimentary facial to each lady at the table at Queens Beauty Longue, Marina
For reservations or for more information, please call 043080440 or email tresind@passionfandb.com