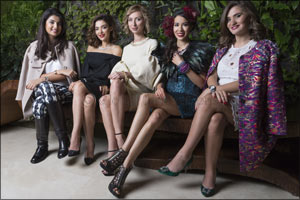 Dubai, October 17, 2015: Swarovski joined forces with eight regional and international fashion bloggers to celebrate its FW 15/16 collection "Winter Gardens". Adored for their unique taste and eclectic cosmopolitan style, some of the eight bloggers flew to Dubai from across Eurasia and the Middle East, including Kuwait's Yalda Golsharifi, Egypt's Noha Elsherbiny of "Satisfashion", Hungary's Anita Rohonczi from "Festy in Style", the Czech Republic's "The Czech Chicks" Hana Drozdová and Veronika Franková, Poland's Tamara Gonzalez Perea, and UAE-based bloggers Eugenia Applebum & Ola Farahat also joined the celebration.
The beautiful Sofitel Dubai The Palm Resort and Spa served as the perfect venue for the fashion shoot, composed of eight style and trend stories. Each blogger was assigned a particular fashion narrative and was requested to create a signature look with a little, or a lot of sparkling embellishment from Swarovski's newest Fall/Winter 2015/16 collection. Once the styling sessions were completed, Shiseido makeup artists and Ricci Capricci's hairstylists completed the transformations with romantic touches of season-inspired hues.
The Swarovski style stories, ranging from "Bold and Beautiful" to "Dress Up Your Denim", combined street chic and versatile on-trend Swarovski pieces, for inspiring and unforgettable looks every modern, fashion-loving woman could relate to. Each blogger reflected her own style and fashion essence through Swarovski sparkles. The stunning Yalda was asked to accessorize two of her favourite little black dresses with the Swarovski collection in collaboration with Miranda Kerr. Ola & Anita were challenged to play on a glamorous, yet modern trend, using structural shaped jewelry that Swarovski names "Fall in Line". Noha was given the freedom of creativity to "dress up her denim" using a mix of vivid and pastel colours – but not only that! Her pregnancy status inspired the stylist and herself to create an additional look on the spot, that represented purity and simplicity, for which Noha styled one of her favourite white dresses with Swarovski jewelry. The two sisters Hana & Veronika were given statement necklaces to pair with their beautiful rings to reflect the "made 2 match" trend. The beautiful Tamara was handed an array of striking pieces to style her outstanding outfit representing the "bold and beautiful" trend. Last but not least, our lovely Eugenia styled her ultimate New Year's Eve dress with Swarovski sparkles for the perfect celebration.
Renowned regional fashion blogger Yalda Golsharifi says: "A simple black dress is all I needed for the perfect shot, as I knew the beautiful pieces of the Miranda Kerr collection would bring the look to life. Beauty is in simplicity – what I loved most about the pieces is how they complemented me, without taking any attention away from me. I felt fragile and precious when I wore them. The design, size and perfect amount of sparkle gave me the inspiration for the perfect pose. Big statement pieces have their place and their specific look, but a truly timeless elegant design is a compliment that can embellish any occasion. Three words that I would use to describe the collection are: elegant, timeless & inspired."