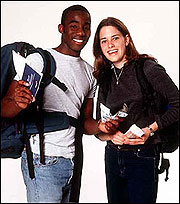 Watching your teenage child head off to school or university for the first time can lead to grief akin to that of bereavement. Sandhya Rajayer offers advice on getting your life back on track.

Your children are born of you but they do not belong to you...A frequently quoted line from Khalil Gibran that could probably serve as an anthem for parents who are experiencing their child leaving home for the first time.

Often called 'the empty nest syndrome', this term identifies the feelings of loss and sadness that many women experience when their children leave home to go away to college or university, get married or just move out into their own apartment. Most commonly it occurs at this time of the year when children leave their cosy nests to go back to their home countries or abroad for pursuing higher education.

True, we all wait for our children to grow up so 'we can have a little time to ourselves' but when it actually happens we are thrown so out of kilter that disproportionate feelings of sadness and sometimes grief akin to that of bereavement pervade our routine existence.

It's not unusual for mothers to spend long hours in the absent child's room, just hugging their clothes, looking at their photographs and fondly going through their collection of music that until only recently was something they wanted to escape from.

It is possible that you will be going through other major changes such as the menopause, dealing with increasingly elderly dependent parents or in-laws, or perhaps undergoing difficulties in a marital relationship.

Since children are the glue that binds parents together, it's not unusual for a relationship to come unstuck in their absence. It takes work to get to know each other again as husband and wife rather than the child's parents but most couples become much closer as a result.

Talking it out with each other rather than running away from the problem may help. Initially it will seem as if there are a lot of flaws in your relationship and you may need to seek help from a professional marriage counsellor if the chasm runs really deep.

Friends who have coped with a similar situation can be a great comfort and forming a support group of newly separated parents along with a few experienced ones can benefit both. Discussing the parting with friends at least six months to a year in advance may help you feel better able to cope.

Remember that far from being the end of the road it can be the beginning of a new one. Take up a hobby, start language lessons or a dance class. Or get back to work if you've taken a break. Life is never going to be the same again and neither will your child. You send out a child and get back an adult oozing confidence and maturity.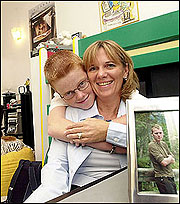 Preparing for the parting
Use the time to also prepare your child for this event. While they may seem to be only half listening to your advice, be assured that the gist of the matter does sink in. Take them out on one to one lunches or coffees, occasions that allow them to enjoy your time exclusively and offer an opportunity to vent any misgivings they may have without losing face in front of their younger siblings.

The first few weeks are going to be as traumatic for the child who has moved away as it will be for the family that is left behind. While it will please you to know that your child is missing you, resist the temptation to jump on a flight or get them home. Be supportive and at the same time let them learn to cope on their own.

Practical things such as e-mail, e-chat, SMS and calls will ease the transition for all of you. Make sure that they a carry stock of prepaid mobile phone cards. Fix up a regular time once or twice a week when you can chat at length either on the phone or through the internet.

Understand also that your child may not be able to articulate that she misses you especially if her roommates are within earshot.

Sarah Dayal, mother of Devayani
"Although Devayani - our only child - was born 18 years ago I feel that the umbilical cord has only just been cut. I had already seen a couple of my friends send off their children to study abroad and learnt from them that when the time comes you have to let go. But looking back I can honestly say that nothing prepared me for the wave of utter despair that hit me, not even my professional training as a school counsellor.

"While Divya - as we call our daughter - was having her round of parties before leaving, I would spoil all happy occasions by bursting into tears. Here was my daughter looking forward to exciting opportunities ahead and all I could think of was how her absence would affect me. It was an emotion close to bereavement and I had to keep telling myself that she was only relocating to another place. In a way society expects you to mourn this separation. After she left, even people who barely knew me would stop me at the supermarket and commiserate.

"That was the time I decided to get on with my life. So I started going out with friends, sometimes leaving my husband to come back to an empty house. He too was grieving but in typical male fashion he immersed himself in work, which left me even more lonely.

"This created a widening chasm between us until he finally brought it up. I realised that our cure for our loneliness was destroying us more than the cause itself. We sat down and talked at length about this and agreed to make time for each other and never to let the other one return to an empty house.

"My work proved to be my salvation. Interacting with senior students at the Dubai Gem school - where I am a counsellor - helped me to refocus on Divya. She was having to cope with far more than we did. Only once did she make an emergency call. She was having tremendous problems with her roommate and called only when she was at her wits end.

"I began to see how bravely she was battling the numerous changes in her life. How well she had learned to manage money and focus on studies in a foreign environment. I can truly say that I sent out a child and got back a confident young woman. She has become a good friend to me and I hope I am one to her."

Patty Costenoble, mother of Nick, 20, and Kareem 12
"I am a practical sort of person so when Nick left for Canada last year my major concern was safety. Here in Dubai our children grow up in a safe environment. They go around with their wallet sticking out of their jeans and they talk to just anyone. They are very open kids and parents are not worried even if they mall-trawl all evening.

"But elsewhere in the world you have to watch your wallet, make sure the person you are talking to is not a criminal of some sort and learn not to accept any food or drink unless it comes from a sealed container.

"Would Nick remember this? Or for that matter would he be able to manage his money, wash his clothes, remember to eat and stay focused on his studies? I spoke about my concerns to a friend who is a counsellor and she said that I should spend some time with Nick talking about all these concerns and ways to tackle the changes.

"She suggested I do this at least six months ahead of his going away. Once a week Nick and I would go off for lunch by ourselves or have coffee in his room. It gave him an opportunity to open up and we also discussed how best he could manage his routine life.

"Since Nick was taking his laptop and mobile phone we fixed up a web-camera chat once a week so that we could actually see how Nick was getting along. We also decided that for the first three months Nick would send a detailed expense account so that at the end of it we could decide on an average monthly allowance.

"The only area where I had any cause for concern was his cigarette smoking. He has promised to cut it down and I remind him of it every week. I have to say that despite my worry I am proud of the way Nick has coped with managing his own life. He has stayed focused on his studies and has retained all the right values and is learning to save money.

"Yet, nothing prepares you for the desolation of walking into an absent family member's room. For the first few weeks Kareem, our younger son, wanted to call up Nick to tell him every single thing that happened. Even now he looks often at Nick's pictures and counts the days to Nick's vacations at home. Nick has realised this and more than made up for his absence by doing things with him and taking him around while he was on his vacation this year.

"In some ways men are better prepared for the time when their sons have to leave home because they know that this is a part of life. But a mother will always see her son as a child no matter how grown up he is. It helped greatly that we have a transparent relationship with Nick and can talk about every single thing that concerns us.

"Also the time we spent exclusively with each other has given us both pleasant memories. Now I have my work as a tour guide to fall back on. I might enrol for Spanish language classes too, something I have been putting off for long. One year on I know that Nick will be okay and it's time to move on."


Keeping in touch
Don't turn the telephone call into an inquisition, relearn the art of making conversation. If you want to know more about their day, tell them about yours.


Siblings will miss them just as much, probably more than you do. Indulge their wish to make telephone calls even if it is only to share news about their favourite bands.


Never cut a conversation short because you are upset. Sort it out even if it means a hefty charge.


Emphasise the importance of clear verbal communication because there are no visual clues, like body language, to help.


Set up a day and time for your regular phone calls. Make every effort to keep up the appointment.


Learn to enjoy the silence at home. Unless your withdrawal symptoms are so strong that you want to enrol for heavy metal classes!