There's just one short life for all eternity. Climb on, Mark and Annie would urge.



Annie at Jebal Rawdah, Hatta (Grade -Hard Very Severe)


Picture (left) : Mark at Wadi Bih, Mussandam - (Grade - Hard Severe)


Join the sport of climbing


More about Annie - the quiet climber.


Dr. Mark Ashton - adventure and spiritualism


Climbing in the UAE
---
"What peaks have you scaled" is the classic question that separates the amateurs from those who know that Mount Everest is just one aspect of climbing. The boulders at Fontainbleu, France is another. The Wall at the Pharoah's Club, Wafi City, is yet another.
Annie Anderson, Instructor at the Wall has done Fontainbleu, the ancient slopes at Nevada and the Arapiles in Australia. In her eight years with Europe's fastest growing sport, she has participated in the British Indoor Climbing Championship, guided interested friends on climbing tours in England, and spent "eight hours at a time tackling cliff faces".
The sport calls for enormous reserves of physical strength, flexibility and most importantly mental toughness. Mark Ashton, her co-instructor at The Wall says, "the sport is all about being focussed and the mind plays a major role in helping push those physical limits further".
Risking your life to climb an obscure cliff might seem slightly eccentric for the average Gulf couch potato. Eccentric or not, Mark and Annie seem to be making every moment count. As for us, it is time to shake off that self-defeating indolence, maybe?
Dr. Mark Ashton
>

For Mark Ashton, the outdoors have never been alien ground. With a father who has recently spent three days in a kayak travelling from the east to the west coast of the Emirates, Mark is doing his bit on the cliff faces of the Northern Emirates. An inveterate adventure seeker, Mark has done paragliding and kayaking in the Potomac river, USA. When he is not seeking the toughest way to scale a mountain, Mark practices kick-boxing or reads anything from Tagore's Geetanjali to Homer's Illiad.

Mark has a Ph.D. in psychology from the University of Pittsburgh, USA, and is an assistant professor at the American University in Dubai (AUD). A comparative new-comer to climbing with two years of experience, climbing and spirituality, for him, go hand in hand. "Climbing sets me free. With just the cliff face in front of me and the wind and birds for company, your senses are heightened and you are at peace with yourself". Mark is keen on getting more people to climb outdoors. ''We want to initiate a climbing culture very similar to enormous following the sport enjoys in Britain.'' With that in mind, they have begun to map and rate routes as well as set up a website for climbers.
Annie Anderson
> Annie Anderson, a primary school teacher by profession, never gave up her passion for climbing, a sport she took up in her teens. Brought up in a family of keen horse lovers, in Wales, vigorous outdoor activities was just part of growing up. Her unlined and very attractive face and figure, give little indication that she is one of the "dedicated loonies" who love to climb during the summer months as well, when temperatures soar to 45 deg Celsius. A very healthy diet of salads and greens with a fitness routine that includes swimming (4 times a week), yoga (twice a week), running (10km at a time) and a healthy dose of reading helps keep her fighting fit for the hard weekend climbs.

A person of few words, one wouldn''t know she climbs vertical cliff faces like we would stairs, unless you specifically asked her. Annie Anderson is clearly one of quiet climbers who keep to themselves and make nothing of their dare-devil expeditions.
---
Learning the ropes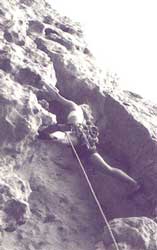 "The sport is exhilirating for the spirit. Tackle a cliff and you could easily face a 500-strong audience," says Mark. "Climbing builds teamwork and confidence. Both children and adults learn to deal with their fear and there is that tangible sense of achievement that builds your self-confidence enormously." After a quiet initial start, Annie and Mark are beginning to make inroads into the Dubai schools.

The only state-of-the-art indoor climbing wall in the U.A.E. (at the Pharoah''s Club, Wafi City) offers a wide selection of indoor climbing activities and classes by Mark and Annie who are experienced climbing instructors (Mountain Leader Training Board qualified instructors)

Classes and workshops are designed for people of all ages and abilities, from complete beginners to more experienced climbers, for those who want to learn how to climb from scratch or build on their experience and knowledge, improving their skills and fitness.

Age 7-12 yrs
Indoor Rock Climbing Club
This is a fun class for children in which they can learn the basics of climbing safely. As children become more experienced they can move onto abseiling, jummaring (ascending ropes with a shunting device) and pulley systems.

Other courses include : 13-16 years
Indoor rock climbing and bouldering league
Adults :
Introduction to Indoor Rock climbing, bouldering league and Skills for outdoor rock climbing. For more details, visit the official climbing website created by Dr. Mark Ashton
---
Climbing in the UAE
The UAE is home to wild and beautiful mountain ranges and wadis, many of which are unspoiled, particularly where vehicle access is difficult. In general, no city is no more than 2 hours drive from the mountains along good modern highways. There is something here for everyone, including some superb wild mountain walking with the emphasis being on traditional adventure climbing, with a big A for Adventure.
An extract from Hot Rock, the definitive rock-climbing guide to the Emirates, by Alan Stark.
The limestone cliffs around Wadi Bih in Musandam, are the weekend haunts for the core group of around ten serious climbers in the UAE. "We set up camp at the wadi and then disperse to do our individual climbs," says Annie. Loose stone is the real danger and slopes are being regularly "cleaned" by this intrepid group of pioneering climbers. While climbing has its joys, rare glimpses of UAE wildlife add to the adventure. Mark and Annie recently shared their camping site with furry desert hedgehogs that took a liking to some of Annie''s leftover Indian curry !
The sport is not without its mishaps. Mark suffered a 25 feet fall recently, badly spraining his ankle. The blisters on the feet and scratches all over, are of course, part of the job. Despite the dangers, keen climbers like Mark and Annie wouldn't stay away from the mountains for more than a couple of weeks at a stretch. "You need to be constantly at it, to maintain a high level of mental preparedness", says Mark of this incredibly demanding sport.