In a mind's eye filled with talibanesque images, Maryam Salahuddin makes a balanced statement. Proprietor of the Al Majlis Library in Karama, Dubai, Maryam speaks with equal sincerity about her religious obligations as a Muslim woman and her plans to expand business.


Our personality in a nutshell


More about Maryam


Visit her library
Born to a wealthy Indian muslim family, Maryam Salahuddin, should probably have been "sitting at home watching television", she jokes with a broad smile. Nothing could be farther from the truth. Women from Maryam's tiny village of Killakarai, in the southern Indian state of Tamil Nadu, are conditioned to restrict themselves to their home and family. "Most women in our community are graduates with a first class and most of them, sadly, will be found sitting at home".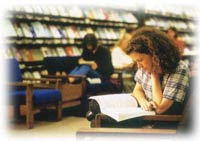 Maryam and her sister Rukaiya were fortunate enough to have a person like S.M. Salahuddin, Managing Director of the ETA-Ascon group, as father and guide. "He was brought up in a conservative environment but always believed that we should be using our education for any constructive purpose". Though trading was his original choice for her, Maryam opted to open a library.
The Initial Planning
"It was my decision and my father supported me after some initial hesitation". With no consultant at hand, Maryam went back to her Alma Mater in Madras, the Women's Christian College, which housed a vast library. The principal helped her out by giving her access to the major publishers. "I met them individually and took their advice on the choice of books in each section. It was exciting though I began to feel nervous as the opening drew near."
Conservative Community
How did the close-knit community members take it? "At first they thought I was crazy to open a business. Most of them believed that I would give it up after a time. There were some who criticised me for neglecting the family." To her credit, Maryam has faced this silent criticism with her trademark smile. Young Shifa, her eldest daughter aged six has perhaps the best of both worlds - a working mother who she can visit and be with at work! "I would expect my children to work for a living, however comfortable they are in life," asserts Maryam.
---
Our Personality in a nutshell
| | |
| --- | --- |
| I love my work because | I love reading. I am a voracious reader and a library is the happiest marriage of an avid interest and a way to make a living! |
| Fitness Regime | Nothing really. My mother-in-law and husband are always trying to persuade me to do some exercise. I have to admit I am a little lazy. Just the other day after my morning prayers, I tried to do a bit of exercise but gave up because of sleep. |
| Favourite Spots in Dubai | The desert and the creek. I just love driving into the desert. I have yet to spend the night under the desert sky. |
| Role-model | My inspiration throughout has been my father. I always wish I had even an iota of his drive and discipline. He kept urging me to do something constructive and without his push, I would not be where I am today. |
| Work Ethic | I am very relaxed at work and I place complete trust in my employees. |
| Philosophy | To be cheerful at all times. I also expect to be treated with the same respect that I give to people. |
| Weaknesses | My temper and chocolates (laughs). |
| Happiest memories of childhood | Travelling to India. Travelling to India. We would have so much fun back home playing with friends and hordes of relations. |
| Regrets | A very over-protected childhood did not gear us to stand on our own feet early enough. |
| Future Plans | Insha allah, I wish to open branches of Al Majlis elsewhere in Dubai |
More about Maryam
The Al Majlis Library speaks volumes of Maryam, the businesswoman with a vision. As you enter the library, you realise, that this is not the run-of-the-mill reader's haunt. With a tasteful Roman facade, the interior is in soothing green. Comfortable cane chairs all over welcome you to read, not just browse. A bustling Internet section and audio/video collection, make the annual membership of Dhs. 350, worth every penny and more. "We do not charge our members for individual books and reference books can be taken home", says Maryam.
The Beginning
A UAE veteran of over 2 decades, Maryam was brought to the Emirates along with her sister and two brothers, at the tender age of six. They were educated in the Our Own English High School. "I still recall travelling in the same bus as the founders, Mr. and Mrs. Varkey. Our school was in a fort in Bur Dubai!"
Sheltered Lifestyle
Maryam was then sent to Madras for her graduation in Home Science at the prestigious Women's Christian College of Madras. "My grandmother with whom I was staying would not allow me to travel alone," she recalls. " I was perhaps, the only girl in school who had a chaperone all the time!" Did that make her a butt of jokes? "No, it surprisingly worked the other way. My friends became protective of me as well."
Engaged to be married at 18, Maryam had a comparatively long courtship of six years because her husband-to-be was completing his studies. A two-year period of relative inactivity during which she "lazed around and waited to get married", she finally became Mrs. Razick.
After two children and an aborted attempt at setting up a Montessory school, Maryam has found her true calling as proprietor of the Al Majlis Library.