In a corporate world where restructuring means cutting costs, one trail-blazing name in consumer electronics has powered an exciting digital dream. Seated in an unfussy, business-like office in the Jebel Ali Free Zone, Mr. Haruyasu Nagata, the Japanese language teacher - turned Managing Director of Sony Gulf FZe speaks exclusively to GoDubai about managing a corporate icon.


The Sony Millennium Vision


Sony - the Corporate Legend


Win a Sony WAP phone


Visit Sony Gulf FZe
---
What if you were given the reins of Sony in Dubai? Cakewalk is the word that springs to mind. In the dog-eat-dog business of consumer electronics, Sony in Dubai, commands an enviable edge over the others. Mr. Haruyasu Nagata, Managing Director of Sony Middle East and Africa is surely in charge of a winning brand and at first glance, would epitomize a typical golf-playing Japanese Corporate Manager with a job of and for a lifetime.

Politics and Business
Mr. Nagata has little reason to be unhappy, but his current assignment can hardly be described as cushy. "I am responsible for operations in Africa and Pakistan as well as in the Middle East. While we have been a leading brand in this region for many years, every market has its own dynamics and problems". In Pakistan, for instance, Mr. Nagata oversees the operations of a 70-man strong manufacturing unit. The rough and tumble of politics in the sub-continent has had its economic fall-out, besides giving sleepless nights to this surprisingly tall, ever-smiling Japanese Corporate Manager.

Academician to Corporate Manager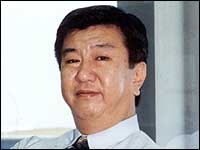 Joining Sony in 1980, was not a part of any grand master-plan. Had it not been for a certain over-supply of Japanese language professors in Singapore in the 1980's, Nagata would probably not have had the time to hobnob with his corporate compatriots . "I began to spend time with managers from various companies and my knowledge of Mandarin and Japanese was a great help to companies wanting to make a headway in mainland China," recalls Nagata.
Western Business Practices
Having spent the better part of his working career outside Japan, Nagata's approach mirrors Sony's own global outlook. While not as radical as the young shinjinrui, the "new human species" shaking up the old Japanese business practices, Nagata does question the wisdom of the Japanese corporate tradition of consensus-based decision-making. To build consensus, Japanese middle managers practise the delicate art of nemawashi, a gardening term that means tending to the roots, where decisions generally percolate up from the middle or even the bottom rather than being handed down from the top. "I admire Western business practices where people are given specific responsibilities. In the Japanese system, there is a degree of confusion. Specific duties are not always assigned and decision-making can slow down considerably." Luckily for him, Akio Morita and the present chairman, Nobuyuki Idei, have ensured that Sony corporation does not suffer from daikigyobyo or big-company disease.
Add value, not cut price
Reinventing Sony, a post world war II corporate legend, has not always met with success. A notable miss was the mobile phone bandwagon. "We were late in arriving," Mr. Nagata admits unequivocally, but adds, "Sony's strong grounding in audio/visual technologies is being applied to add value to our mobile phones. He says, "we do not have the advantage of a patent in the mobile phone technology as Sony does in the audio/video products - which is why we are concentrating on our core competencies in sound technology to give the mobile phone, the Sony edge. Price-cutting has never been part of Sony's gameplan".
A Conservative Market
The latest Sony WAP mobile phone is certainly a dynamo in the palm of our hands and makes great business sense in a region that is officially rooting for the Internet. "The pace is not to our satisfaction," says Mr. Nagata. "We have a whole range of digital products that has yet to find a large market in the Middle East." Unlike the more advanced markets in Europe, America and Japan, the main draw in this region, remains the television and standard music systems. "This is a peculiar situation for us because we can deliver but we are restricted by a conservative market," says Nagata.
Nagata - the family man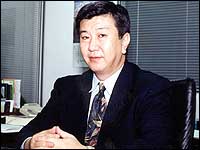 The Middle East is only at the threshold of the Internet fast-track, but young Japan is well into the groove. "My children are hooked to their mobile phones. The whole lot of their generation is. All these kids are going click, click, click," rues father-of-two, Nagata as he gesticulates with his sleek mobile phone. And with the extra baggage of a childhood during austere post-war Japan, Nagata and his peers find it even more difficult to understand a new generation obsessed with gizmos rather than lofty nation-building motives.
Personal Gems
A worried father spoke, though he gave little else away. The regrets, if any, have been cast aside; the achievements, too 'un-Japanese' to mention. The personal details were like rare gems cast our way in an otherwise candid discussion about the company. "I do not like to exercise," reveals Nagata, "but I love cooking. A good weekend, for me, would be to shop in the supermarket and cook Japanese, Chinese or Continental. The supermarket operations, in fact, fascinate me. I would love to work in one," he adds laughingly.
Just as the company he helps manage, Nagata is a Japanese with refreshing openness. In keeping with recent counsel sought by Sony's Chairman, Nobuyuki Idei from industry leaders in global entertainment, Nagata gave GoDubai the undeniable honour of voicing their views on how fast the Internet will catch on in this region. With over 600,000 users and growing, the Internet era, we said has already arrived. Nagata's face bathed in smiles seemed to say, "we are all set to deliver".
Here's something to look out for in the near future! Sony will be launching Playstation 2, the sleek VAIO Laptop and the FD Trinitron WEGA Projection TV with Digital Reality Creation Technology (43", 48", 53" and 61"), in the Middle East

Back to top
---
Sony Trivia
In May 1946, a small group gathered in a burned out department store building in war-devastated downtown Tokyo and Tokyo Tsushin Kogyo, was established. In the early gathering was a young engineer Akio Morita , then 25 years old who later spearheaded the company's global thrust.
In 1958, the company name 'Sony' was created by combining two words. One is 'sonus' in Latin, which is the root of the such words as 'sound' and 'sonic'. The other is 'sonny' meaning little son.
In 1950, Sony introduced Japan's first tape recorder and in 1960, the world's first transistor television. In recent years, Sony has tasted big success in the video game market, once the domain of Nintendo Co. and Sega Enterprises Ltd. After only a couple of years in the business, Sony's PlayStation game machine is No. 1
A company with an international outlook - some 40% of Sony's shares are now held by foreigners.
Termed as an adaptor, Sony cut its Board from 38 to 10 in 1997. The idea was to remove most of the day-to-day managers and leave the board free to make the hard strategic decisions.

Back to top
Digital Dream Kids
Sony's Leading Man, Nobuyuki Idei, has now focused Sony's attention and resources on a digital future, an era in which traditional consumer electronic products would converge with computers and communications technology.

From a global perspective, Digital Dream Kids are tomorrow's consumers - the kids of today who are already conversant with digital technology. Sony's mission is to make their dreams come true with innovative and trend-setting digital products.

In a nutshell, Sony provides four gateways that will lead consumers into the future: VAIO, PlayStation2, Wega television with set-top boxes and mobile products which include GSM phones and personal entertainment organisers. Through these four gateways, digital content can be enjoyed on one's own personal products, maximising one's personal level of enjoyment. Visit Sony Gulf FZe for more.
Back to top