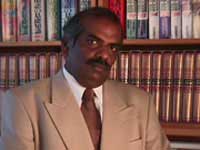 Our personality in a nut shell
More about our personality

He is constantly walking on a tightrope - be it in Lebanon where he was held hostage for a few days by one of the militias during the civil war or in Jordan where he bloomed as a journalist, or in the UAE, where he vies with two established English-language newspapers for a slice of the readership.

P.V.Vivekanand, chief editor of the Gulf Today, cannot be mistaken for an average Indian expatriate eking out a mundane existence in Dubai. An authority on the crisis that are plaguing the Middle East and the intricacies in intra-Arab politics, Vivekanand's deep-set eyes reflect wisdom that the Arab world cannot afford to ignore. And that is reflected in the editorial columns of the Gulf Today.

Eventful Career In The Middle East
Leaning back casually on his office chair taking unremitting puffs, Vivekanand talks about an eventful career in the Middle East that took him to almost every Arab country on assignments in the last 20 years. He has covered almost every armed conflict in this part of the world in the last two decades and has survived to tell the tales of how he had been hijacked in Somalia, beaten up in Rwanda, shot at in Bosnia, detained in Kenya and beaten up elsewhere. He was the voice behind many of the international scoops that you and I eagerly devoured in various newspapers. One of the most coveted prizes in journalism -" Journalist of the Year Award" - was conferred upon him in the year 1997 by the Tokyo-based International Journalists Congress for his outstanding contribution to the international media from the Middle East.

A Different Ball Game In The UAE
Far removed from the 'rat-race' for news and scoops, he is now in a region that can hardly boast of a rich history in journalism and worse still, where press freedom is still in its infancy. "It is altogether a different ball game out here," says Vivekanand. "We need to address people whose interests vary from labour and immigration laws to shopping bargains, raffle draws and job availability to social issues." That is indeed totally different from what he has been used to in Jordan, where the Arab-Israeli conflict, the Iraq crisis and inter-Arab politics dominated the media. "We (the Jordan Times) were not competing with a counterpart in the local media," he recalls. "We were fighting the Israeli press on every point, trying to make the Arab voice heard and to dispel the anti-Arab notions that the Israeli media sought to press at every given opportunity," he says. "And that is where the real challenge was."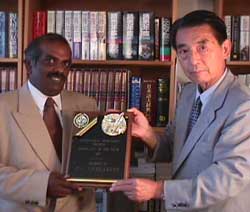 P.V.Vivekanand receving the 'Journalist of the year award' from Takashi Kakuma, The President of The International Journalists Congress in Tokyo.

Challenge In The Gulf
"Indeed, there is a challenge here in the Gulf, but it is of a different nature," he asserts. "Here the focus is more on the community and your readers are expatriates whose agenda has little to do with Arab politics. Your success hinges on how far you could interact with your readers in terms of the issues of the daily life of an expatriate." How tough or easy is that? "Again, it depends on your perceptions," says Vivekanand. "If you know the techniques of the PR game, it should be relatively easy. Unfortunately, I don't."

Press Freedom In The UAE
That brought up the question: How far could an English-language paper in the UAE go in objective reporting? "It is clear that the top level leadership of this country recognises the importance of press freedom and in fact wants the local papers to exercise those freedoms without restraint," affirms Vivekanand. "Very unfortunately, it has still to seep down to the middle and lower grades." At the same time, he points out, press freedom is not a weapon that could be employed freely with immunity. "They are part of a wider picture that involves your commitment to the profession and your understanding of your responsibility to the reader at large as well as the society that you live in. "I don't believe in criticism for criticism's sake," he adds. "Criticism should go hand in hand with pointers to options and alternatives; otherwise the task is incomplete."

His Flexible Personality
By and large, Vivekanand seems to have adapted himself rather well to the diverse realities of the Gulf region in the last two years since he moved from Jordan, where he was the mentor and trainer of many a budding Jordanian journalist. "Anand's school of journalism:" that was how once a veteran Indian diplomat, Gajendra Singh, who served in Amman, described the Jordan Times, which Vivekanand served for nearly two decades.

His Book On The Middle East Crisis
At the same time his journalistic fervor and undying spirit will not let him sit back in the UAE. Vivekanand is busy these days writing a book on the developments in the Middle East in the last three decades in the light of his vast experience and knowledge on the issue. "The book will strongly voice my considered opinion and may touch a few raw nerves in the Arab world," reveals Vivekanand. "I hope to make it an unconventional work, where I intend to recount my experiences in dealing with the region's people, governments, politicians, the UN, international agencies, underground groups...within the context of the wider political and socio-economic imperatives that have guided life here in the last 30 years."

Back to top
Our personality in a nutshell

| | |
| --- | --- |
| My role model | Rami Khoury who was the Editor of Jordan Times. |
| Work Ethics | Don't write about something that you don't understand. |
| Philosophy in Life | Nothing is worth thinking about and losing sleep |
| An Editor's Nightmare | Absence of a middle, executive level in a newspaper |
| If not a journalist | Steel Plant Engineer |
| Is Internet a threat to newspaper | No. Newspaper is a culture by itself and faces no threat from any other media. |
| Favourite spots in Dubai | City Centre |
| Favourite Cuisine | Chinese and Thai |
| My Hobby | Watching Malayalam movies |
| Fitness Regime | Nothing worth mentioning |
Back to top
More about our personality

Initial years In Journalism
One wonders whether the fictional story of the newspaper boy who eventually became the richest and most powerful newspaper tycoon had ever inspired Vivekanand. Born in a remote village in Kerala, India, Vivekanand was running a family business in Bombay when he was forced to leave for Lebanon on the lookout for a job in 1978. Stormy events were in store for this young man in Lebanon where he had to work as a construction labourer for a few days to sustain himself. Following a daredevil escape from a Lebanese military camp where he was detained as a hostage for some inexplicable reason, he reached Jordan. His destiny as a journalist now began to take shape even as he worked as a supermarket salesman. He joined the Jordan Times, the country's only English-languade daily, as a part time proofreader in 1979 under the then editor William Lee, who is now a senior official at the United Nations in New York. "Looking back I have no regrets. Life was fair enough to me and I enjoyed every moment," says Vivekanand.

Unlike many other top-notch journalists, Vivekanand's career graph skyrocketed with an impressive speed. His transition from a part-time proofreader to the front-page editor in the "Jordan Times," the nationalist newspaper of Jordan, took only 15 months. "It was an obsession with me to climb the ladder," Vivekanand recalls. "I focused so much on the job that I could remember where I had put a fullstop and a comma in my work hours after I had done it." "I can remember very well today that whenI first stepped into the office of the Jordan Times, I knew that one day I would be sitting amongst the editors, " he says.

Politics- His Forte In Writing
It was in 1981, when the Iran- Iraq crisis was at its peak, that Vivekanand plunged into writing and politics became his forte. He has to his credit exclusive articles published in various newspapers and magazines around the world since then. But he has had difficulty in dealing with the Western media. "I ran into trouble with almost every paper after a few reports," he recalls. "I could not digest the way they used to reshape my words and turn it around to reflect the Western perspectives of the events in the Middle East. I used to feel like having been stabbed in the back when I used to read stories in print with my bylines but with my ideas and perspectives twisted to suit the paper's approach to the region." "Well, then I have to admit that it is an editor's prerogative," he says, "just as I exercise them in my present capacity." He also became the Jordan correspondent of the Indian news agency, United News of India, in 1984, and served that agency until 1992. Thereafter he wrote on the Middle East peace process for the Times of India for some time before the preoccupations of the Jordan Times brought his association with the sub-continent's leading paper to a standstill.

At The Helm Of Gulf Today
At the helm of the latest 'kid on the block' The Gulf Today, Vivekanand is a man with a mission. He acknowledges that competing with two established newspapers is no cakewalk. However, he asserts, "The Gulf Today represents the Arab voice a decibel higher than any other newspapers in the region and that is where my paper is distinguishable."

A journalist of international repute, Vivekanand does not wear an unapproachable halo round his head. As an editor his formula is simple. " No copy can be perfect. I have no qualms in giving my copy to the junior most sub-editor if need be," says Vivekanand. A two-hour rendezvous with Vivekanand inadvertently gave off some thought provoking views about his profession. "Journalism is like getting married. You need to be on 24 hours standby and there is no looking back," says Vivekanand. In his case, the honeymoon has never ended as the relationship retains a lustre even in its twenty-first year.

Back to top