Media Watch

A much-needed Refugee

Burden of the brand Bollywood

Time for a global conversation

The Kissinger papers

Paradox of plenty

The Laundering War
Discussion forums on GoDubai.
GoDubai's News Services

City Buzz
News for the resident.


Tourist Alert
DSF 2008! Daily updates.


Press Releases
Submit your press release.


Travel News
From Insites : GoDubai's travel network.


GoDubai Newsletter
A fortnightly update. Subscribe Now

Fourth Estate


Nihal Singh
Editor of Khaleej Times

Sanjeev Kapoor
Chef and TV cookery host.

Bron Lancaster
Chef and food columnist

Dileep Padgaonkar
Director of the Times of India

PV Vivekanand
Editor of Gulf Today

Sona Mampilli
Freelance Journalist

Sam's Biz feature
Advertise on GoDubai

For product launches, contests, event promotions and online booking, GoDubai provides special rates for 2008. With over 10 million hits a month, GoDubai will deliver your message across the region.
News at your fingertips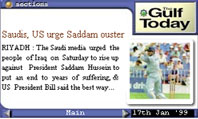 Magazine Rack


Young & Trendy
Popular magazine for younger crowd.


Arabian Woman
A monthly from Saudi Arabia.


Arabian Man
A monthly from Saudi Arabia.


Telelife
Sony TV's official magazine.


Help-Desk

Daily Events

Experts


Getting Around Dubai

Company Search
Build A Story
At present the contest has been temporarily discontinued. You can view the previous entries.
In The News

Dubai Media City

Dubai Press Club

Dubai Internet City
A Retrospective

GoDubai 2001

GoDubai 2000

GoDubai 1999

GoDubai 1998

Feedback from Surfers