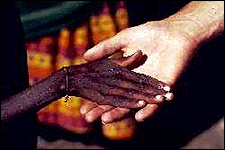 Dubai – City that cares…!

But who cares…?

Who cares about that neighbour, who look sad and forlorn, who you meet everyday in the lift..?

Who cares about that woman living in the next building, who has lost her job and is desperately looking for one, because she has an ailing husband and two kids to look after…?

Who cares about that old friend of yours, with whom you have shared all your childhood dreams, who is now on visit, desperately seeking for a placement somewhere, who has only a few more days left in this country and who considers suicide instead of going back home, because, he had mortgaged his house for the money to come here…?

Who cares about that guy at the bus stop who has not been paid for the last nine months, and has only a few fils left in his pocket to get him through the coming days…?

Who cares about that guy in the labour camp who had to beg for a glass of water to sustain his life, because he hasn't been paid at all…?

Who cares about that cleaner who hasn't seen his first child - who turned three this year - and has no hope of seeing him for he doesn't know how many years, because the employer who had promised him an air ticket every two year has betrayed him….?

Who cares…?

Well, this indifferent attitude to other's sufferings comes naturally in a place where you and me are struggling to get along. We don't have time for other's troubles when we ourselves have a lot to face each day.

There are exceptions. Yes, Dubai city do care, and we have examples for that in the case of that sixteen-year-old girl who was in coma and was showered with love even from strangers. However, is that a case of 1/100 or 1/1000? Many cannot publish their stories in one of the dailies…and so they silently suffer.

It is not that goodness is gone forever. We all think that it is not our responsibility to think of others sufferings. We think that charity and good deeds are for the rich and the famous.

However, we rarely think that we could be one of those guys mentioned above. Then, we expect others to act kindly…

To make a difference we should not expect others to act, we should act first. We have to take the first step.

As you know, charity is next to prayer. Moreover, every good deed counts. In this Holy month, let us try to make a difference to at least one life.

Do you have one such story to tell…? Let others know about someone who needs help by writing to us. Make a difference to someone.