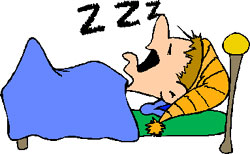 Snorers beware: The condition might be a signal of a more serious ailment. Often the subject of cartoons and ridicule it is only recently that medical specialists have pointed to this particular sleeping disorder as one that could bring about a heart attack or cardiac arrythmia among men between the ages of 40 and 60.

In the light of recent studies, doctors believe snoring could also be one of the largest factors leading to daytime road accidents. According to Dr Suresh Puri, Consultant Physician and Pulmonologist at Dubai's Welcare Hospital, snoring -- referred to "sleep apnoea" in medical parlance -- cause people to stop breathing while sleeping. During certain apnoeic spells, blood oxygen level falls and carbon dioxide rises and this in turn alerts the brain resulting in snoring. The doctor, who has spent 18 years in Dubai treating asthma, pulmonary and sleep-related disorders, believes snoring is a public health problem that goes often undiagnosed and underestimated.

The symptoms of sleep apnoea include restless sleep and loud snoring precipitated by silence and gasps. This could lead to excessive daytime sleepiness. "Patients who suffer from this condition have been known to doze off at the wheel while driving leading to major road accidents," Dr Puri says. Morning headaches, lack of concentration and irritability are also some of the other negative fallouts of what has long been considered a rather innocuous phenomenon.

One among eight males in the age group of 40 to 60 snore while sleeping. These are the same men who are obese, have increased neck girth and are heavy smokers. Alcohol and sedative drugs also lead to snoring. Simply put, negative air pressure inside the upper respiratory system of the body leads to a loss of oxygen resulting in snoring. But this could be symptomatic of more serious ailments like cardiovascular disease.

For those suffering silently, help is now at hand. Dubai's Welcare Hospital has introduced a "Sleep Laboratory" that will help people analyse the cause of snoring and rectify it. The new method of treating sleeping disorders will make use of the nasal Continuous Positive Airway Pressure (CPAP) to add to the quality of life of those suffering from such an ailment.

A patient is usually admitted to the sleep laboratory the night before and is made to sleep under ideal conditions. His movements and breathing are monitored continuously and assessed according to 14 parameters leading to a diagnosis that could cure a person of snoring as well as reduce other risk factors. Says Dr TP Ray, CEO and medical director of Welcare Hospital; "With proper diagnosis and treatment patients can get rid of their embarrassing symptoms, improve the quality of their lives and reduce risk factors like cardiovascular diseases."

Article Courtesy: Gulf Today