Dubai Racing Club

Home to the Nad Al Sheba racecourse, the DRC is one of the world's leading racing facilities. Check out the racing calender and book online
Dubai Flying Association
The DFA was conceived in 1987 by a few flying enthusiasts who at the time were private pilots with the Aerogulf Flying School, which operated alongside the helicopter operations.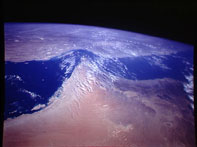 A space shot of the UAE.
Click on picture for a clearer view
---

Cultural Centre
Shk. Mohammed Centre for Cultural Understanding conducts a weekly tour of the Jumeirah mosque.
---

Recycling Centres
The Emirates Environmental Group has organised, with the help of local businesses, recyling centers in easy-to-access places all over Dubai.
There is one in your neighbourhood!
---
Contact EEG for more details