Sanjeev Kapoor
The Chef Who Made Indian Cuisine Popular

By Bron Lancaster
Everybody's heard of Sanjeev Kapoor. It is not an assumption. It is a fact. If not anywhere else, right now, here on GoDubai.

There is something about a cookery programme that most people can't resist. As a TV chef, Sanjeev Kappor has managed to captivate audiences near and wide with his weekly cooking spot Khana Khazana, a Zee TV production. In many homes around the nation everything stops still while his show is on, housewives, bachelors, housemaids, cooks and others are glued to the screen during his regular spot when he creates some great tasting food. Naturally after the show it's hot foot off to the kitchen to try it out for themselves.
Intimidating he is not. Sanjeev is a natural, his love of cooking shows only too well in the way that he makes it all look so simple. His audience is drawn from many continents, language proving to be no barrier. "People can watch my show", says Sanjeev, "and even if they can't understand the language they can usually understand what I am doing".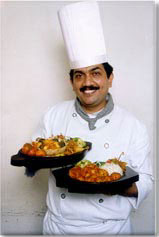 Sample his culinary creations at
The Khazana Restaurant in Dubai.

Open Daily : Lunch - 12.30 - 3 pm
Dinner: 8 pm - 1 am
Also open for private parties & takeaways
For reservations, call Khazana Restaurant - Tel : (04) 360061
His quest to educate those not familiar with 'real' Indian food continues and probably will for quite some years. "Indian food is prepared right across the world, he goes on to say, "but unfortunately it's not always authentically Indian, my wish is that people get to enjoy real Indian food, the way we know it in India. So the best thing I can do is to take it to them, if they can't come to us. I have made one or two adjustments to our traditional recipes such as reducing fat levels to meet the rising demand for healthier cooking".

With CD already on sale. The CD contains over 125 of his most favoured and popular recipes. Sanjeev says unfortunately it is only available in India. Following by early next year is his Encyclopaedia of Indian food which will be published in 17 different languages. Already enquiries are starting to pour in as to where they can be purchased here he hopes that distribution here and in other countries may follow soon.

With an impressive CV under his belt, meeting Sanjeev is a heartening experience. His commitment to food is paramount. Travelling the world with food festivals or catering for banquets in the thousands doesn't phase him one little bit, he enjoys the challenge not to mention getting to see new places and meet new people. During a visit to Russia to head up a catering team producing upwards of 10,000 meals per day - he still found time to check out the countryside. "even though we didn't speak the language we didn't let it stop us taking a train to explore a little".

If you were to ask Sanjeev if he always wanted to be a chef he may tell you that in the early days he had aspirations to be an architect, but somehow food got in the way. Not that he minds one little bit - cooking is something he really enjoys doing.

For those who missed out on going to his cookery demonstrations in Dubai the good news is that he is opening a restaurant here later this month within the Al Nasr Leisureland complex. One need not ask what the restaurant will be called, he has named it after his famous TV show Khana Khazana and it will feature many of his favourite dishes on the menu. Look forward to seeing you there.


Check out the dining scene in Dubai.