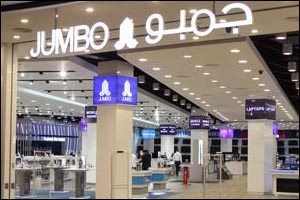 New Jumbo Store is decidedly 'cool', clutter-free, easy to navigate, and designed around the shopping and browsing preferences of consumer electronics enthusiasts
Takes touch-and-feel retail to the next level with 'shop-in-a-shop' concept and 'unboxing bay'
Plus there's a lounge, a new funky colour theme, and the 'unwired crew' at hand
Dubai, UAE - 28 April 2015: Reinventing the in-store shopping experience, Jumbo has re-launched its Mall of the Emirates store with a fresh, new format designed to take the customer experience to the next level and firmly establish Jumbo as the epitome of 'cool' in consumer electronics.
The newly revamped Jumbo Retail store, spanning 27,000 square feet, features a clutter-free layout that facilitates easy navigation between product categories, and is designed as a space that encourages customers to browse and explore consumer electronics at leisure.
"Jumbo is a pioneer in organised retail in the region, and we have been improving our in-store and Online offerings consistently to create industry-best retail experiences that appeal to the region's international consumer base. We think ahead to keep up with customer preferences in the highly competitive consumer electronics retail segment," says Nadeem Khanzadah, Head-OmniChannel Retail, Jumbo Group.
Intuitive and experiential store format
Jumbo's newly formatted store differentiates with elements that enable seamless customer experiences. Using colour-coded wall fixtures and easily spottable signage, the store is also sectioned to allow fluid accessibility between main products and related accessories.
The displays are ergonomically designed, keeping in mind the way people interact with products. For example, the televisions on offer are set up in a tiered display, at heights and angles that match the television-viewing experience at home.
"There is a lot more that goes in to store planning than what meets the eye. Studies by McKinsey show that improving store formats can increase customer sales by 20 to 30 per cent. With this new layout, we have segmented the display to intuitively guide customers to the most in-demand products, as well as created special experience zones for products that need more time and space for customers to come to a buying decision. The key words here are proximity and convenience, along with an environment where customers don't need to be rushed through their browsing or purchase," explains Nadeem.
Greater brand engagement with 'shop-in-a-shop' concept
The reformatted interiors also include special merchandising areas, or shop-in-a-shop concepts, for specialty brands. These brand-focussed 'experiential' zones build on Jumbo's existing multi-brand structure, while providing a far more interactive experience than shelf displays.
"The shop-in-a-shop concept in the electronics segment is quite new to this region, but a tried and tested formula in other global markets. The space can be refitted with minimum effort to feature a larger, more impactful brand experience and we already have brands such as Sennheiser and Dyson taking advantage of this unique platform for enhanced in-store engagement," Nadeem adds.
Dedicated in-store consultancy
As a trusted consumer electronics retailer in the region, Jumbo credits its success largely on being able to offer customers valuable in-store advice on the best products that suit their needs. Building on this unique proposition, the newly revamped Jumbo store will have on board 75 brand consultants and experienced salespersons on the shop floor.
What's more, customers can also approach the Jumbo Unwired Crew team for a full demo of the product, transfer data, add software's and upgrades at the dedicated 'Unwired Crew' bay within the store. "At Jumbo, we train our Sales staff to complement the customer shopping experience, not by crowding them but being at hand for advice or clarifications. The 'Unwired Crew' bay is an innovative add-on, which we feel will greatly help shoppers get to know their products better and comfortably walk out working with their purchase" says Nadeem.
Customer-friendly environment
Not limiting the customer experience to simply technology and gadgets, the store will also have a lounge area where shoppers can enjoy a break while browsing. We have a number of exciting experiences planned for customers that will leverage the new store format, including partnerships with brands to create interesting communication and offers such as opportunities to host a radio show with leading RJs in the UAE inside the store. We also have organised celebrity meet-and-greet opportunities, which will be rolled out in our newly revamped stores.
More to offer as an anchor store
As one of the anchor stores at the Mall of the Emirates, Jumbo believes the new store format will help increase visitor footfalls to the mall.
"In 2005, we opened this outlet as the first big-box store in the Middle East. We started this trend, and have been successful in attracting a large number of customers through this model. The new format, along with other factors such as the proximity to the parking lot and other high traffic concepts in the mall, will drive shoppers to step in and experience the best of consumer electronics retail on offer in the region," concludes Nadeem.