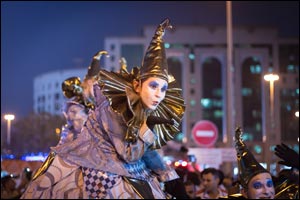 Issued by the Media Centre of Dubai Festivals and Retail Establishment
'Journey of Celebrations' offered unique shopping experiences for 32 days to residents and visitors from around the world
Dubai, February 1, 2015: As the milestone 20th edition of Dubai Shopping Festival (DSF) draws to a close today (Sunday, 1 February, residents and visitors from around the world who joined its spectacular 'Journey of Celebrations', will carry home wonderful memories of Dubai and its retail offerings that they enjoyed during 32 days of unique shopping experiences.
From shoppers seizing the opportunity to pick up bargains and amazing promotions at Dubai's world-class shopping malls, souks and retail outlets to lucky ones encountering life-changing moments at DSF's mega raffles and families creating memories of a wonderful time in Dubai at amphitheaters, parks, outdoor and indoor venues and other hot spots of the city – the much-awaited edition of DSF truly lived up to its promise of being the biggest and the most memorable edition of DSF yet.
Having inspired numerous residents and visitors from around the world to help position Dubai as an exciting family tourism destination, the 20th edition of DSF catered to all local, regional and international audiences with something to attract people from all walks of life.
Numerous residents and visitors of various ages and nationalities had the opportunity to experience the landmark edition through a calendar packed with more than 150 citywide events, mega attractions, and numerous shopping and winning opportunities across the length of the festival. The exciting agenda featured a diverse array of activities held under five themes: 'Journey Into Style', 'Journey Into the Unique', 'Journey Into Entertainment', 'Journey Into Winning' and 'Journey Into Music'.
Given the high demand for DSF raffles and to conclude DSF's 20th milestone edition on a fantastic note, DSF's 'Journey Into Winning' has been extended beyond DSF's concluding date of 1 February. The final draws for Nissan Grand Raffle and Infiniti Mega Raffle will now be held tomorrow (2 February) when Nissan Grand Raffle participants can look forward to winning the daily prize of a Nissan car in addition to the weekly prize of a Nissan Patrol.
As part of the Infiniti Mega Raffle, one lucky shopper will have the chance to win the daily prize which consists of two Infiniti cars QX60 and Q50 and AED 100,000 in cash, while additional draws will have more surprises for DSF shoppers including AED 100,000 in cash each for five lucky shoppers.
DSF 2015 also saw Dubai accomplishing another Guinness World record, this time for the longest handmade gold chain in the world, aptly called the 'Dubai Celebration Chain.' The marvel made its entry into the coveted records at 5.522 km in length and a weight of approximately 256 kilos. The chain, which features more than 4 million links, was manually linked by 100 craftsmen over 45 days for 10 hours each day.
The 20th edition of DSF, which commenced on 1 January, was organised by the Dubai Festivals and Retail Establishment (DFRE), an agency of the Department of Tourism and Commerce Marketing (DTCM). DFRE attributes the success of DSF 2015 to exceptional contributions made by its Strategic Partners - Emirates, AW Rostamani Group, Al Futtaim Group, Emaar Malls, Majid Al Futtaim Properties, Paris Gallery, ENOC/EPPCO, Nakheel (Ibn Battuta Mall), Dubai Duty Free, Al Zarooni Group, Meraas Holding, and Etisalat and Key Sponsors of DSF 2015 including Visa, Emirates NBD, Jumbo, Dubai Gold and Jewellery Group, WAFI and Global Village.
Highlights of DSF 2015
JOURNEY INTO MUSIC
Right from its first day on 1 January, DSF 2015 took off to a spectacular start with esteemed musicians from India including Amjad Ali Khan and his sons Amaan Ali Khan and Ayaan Ali Khan performing alongside the world-class ensemble of WNO Orchestra at Zabeel Park. Attracting hordes of families, the event was a fitting start to DSF's anniversary edition, with international artists bringing to life DSF's core theme of 'One World, One Family, One Festival,' in a way never seen before.
'DSF Celebration Nights' – a mega concert series featuring some of the most popular Arabic superstars was another superb musical treat for all the families and music lovers in town. With names as popular as Saber Rebai, Milhem Zein, Najwa Karam, Assi Hellani, Nancy Ajram, Abr Diab, Elissa, Majid Al Mohandes, Balqees, Khaled Abdul Rahman, Ahlam and Mohammed Abdo taking to stage – DSF visitors were ensured of many fantastic nights on the weekends.
Meanwhile Indian fans dashed to watch their favourite young singer Arijit Singh perform live alongside a 50-piece Grand Symphony Orchestra from London at a World Premiere performance in Dubai that resonated to the sounds of his super hit songs from Hindi movies. Sonu Nigam, one of the most popular Indian singers, made it a night to remember when he took to stage and mesmerised thousands of fans with a non-stop concert featuring a selection of his most popular songs. Fans of the famous Filipino on-screen couple Daniel Padilla and Kathryn Bernardo also known as KathNiel, also dazzled their fans in Dubai. The line-up included Zakir Hussain's Nirvana 2015.
JOURNEY INTO STYLE
Dubai's status as one of the fastest-emerging fashion capitals of the world was further enhanced by Abbati – a designer showcase for modern Middle Eastern fashion, the DXB Fashion Photography exhibition featuring the International Festival of Fashion Photography from Cannes, and the recently concluded Diamond Fashion Show – the world's most expensive show of its kind that staged a sparkling display of diamond jewelry worth over USD 100 million.
MAC Instant Artistry featuring interactive experiences for shoppers and the RADO "Dubai" Watch Launch featuring Bollywood star Hrithik Roshan were other events that gave DSF's "Journey Into Style" a refreshingly dazzling element.
JOURNEY INTO THE UNIQUE
The fashion-savvy crowds of Dubai too rejoiced over getting the chance to meet with well-known international style icons. Giuliana and Bill Rancic and Nicole Richie who arrived in Dubai for their first-ever Celebrity Pop-up Shops during DSF, showcased an exquisite range of their signature clothing and accessories lines in Dubai, much to the delight of their numerous fans in the region.
Etisalat Festive Park – a new concept organised in collaboration with Etisalat gave thousands of families the opportunity to enjoy a host of fun-filled family-friendly events and activities at Zabeel Park. Market Outside The Box (Market OTB) – the region's first sustainable fashion and lifestyle marketplace featuring retailers operating out of stylishly refurbished shipping containers – also returned this year.
The Smurfs Live on Stage – World Premiere gave children plenty of reasons to celebrate as their favourite blue characters weaved a magical story packed with entertainment and music in Dubai and the Ripe Food & Craft Market was a unique outdoor event that offered a platform for Dubai's multicultural communities to come together. Further, DSF's signature attractions including Global Village and Carpet & Art Oasis topped up the festival's 32-day-long agenda with enticing cultural and traditional offerings.
JOURNEY INTO WINNING
Numerous participants from all walks of life and of various ages and nationalities emerged as the lucky winners of DSF's four mega raffles. Mega winnings in the form of brand new Nissan cars as part of Nissan Grand Raffle and cash prizes and Infiniti cars as part of the Infiniti Mega Raffle; 100 kilos of gold and 40 carat in diamonds at the Gold and Jewellery Mega Raffle and up to AED 1 million in prizes were up for grabs as part of DSF's "A Million Reasons to Shop" promotion at participating shopping malls.
JOURNEY INTO ENTERTAINMENT
Those looking for entertainment in Dubai had plenty to choose from as well. From Gulzaar's Theatre Fiesta to Mamma Mia! The Smash Hit Musical, Romeo and Juliette – Les Ballets De Monte Carlo – visitors of all ages and nationalities had the chance to treat their senses to top international productions in theatricals, musicals and large scale family-friendly events.
Also on the agenda were star-studded events like The 5th Gr8! Women Awards 2015, signature attraction DSF Celebration Nights, cultural gatherings like the Indian Republic Day Kavi Sammelan and Mushaira and much more.

Dubai International Kite Fest turned out to be a complete family-friendly attraction where beach-goers were given the chance to participate in a variety of kite-flying activities in addition to enjoying the lively food stalls and other children's activities in a lively beach setting.
Other events
A diversity of other events at shopping malls and other venues ensured that tourists can experience DSF's eclectic entertainment offerings in every nook and corner of the city. From cultural events such as Latin Art Fest, Pinoy Fiesta and Spirit of the Orient to other stage shows featuring a variety of talent such as Perch Creek, Little Superstars, From West to Broad Way and much more – DSF 2015 was a complete family-friendly treat for all the visitors and residents.