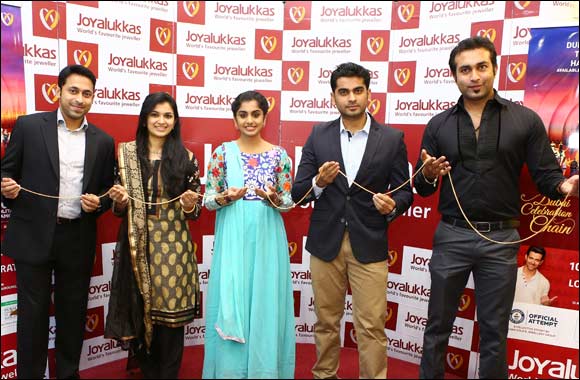 Dubai Celebration Chain a handmade tribute to the 20th anniversary of Dubai Shopping Festival.
Dubai, 22nd Dec, 2014: Joyalukkas Jewellery 's Lulu Hypermarket showroom located in Al Qusais yesterday welcomed the popular South Indian actor and celebrity RJ Meera Nandan to launch the Dubai Celebration Chain. The Dubai Celebration Chain is a historic commemoration to the 20th anniversary of Dubai Shopping Festival. Joyalukkas is also manufacturing this world's longest handmade chain in association with the Dubai Gold & Jewellery Group, which on completion will be certified by the Guinness World Record body.
"I am absolutely thrilled to get the honor to launch the historic pre-booking of the Dubai Celebration Chain at Joyalukkas. I believe this world record commemoration will not only give the buyers the opportunity to own a piece of history but also will give them the chance to win an incredible 100 kilos of gold and 40 carats diamonds during DSF 2015," said Meera Nandan.
The 22 carat record breaking 5 kilometre long handmade gold chain has been aptly branded as 'Dubai Celebration Chain' to compliment the DSF theme i.e. "20th Anniversary – A Journey of Celebration'.
"A big thank you to Meera Nandan for coming to launch the historic Dubai Celebration at our Al Qusais showroom. We are seeing a huge demand for pre-booking at our showrooms since we are also offering a unique facility of paying only 10% to pre book plus the assurance of lowest gold price on purchase," said Mr. John Paul Alukkas, Executive Director, Joyalukkas Group.
Customers purchasing the Dubai Celebration Chain at Joyalukkas have to pay only 10% of the value on pre-booking plus they are assured of the lowest price on gold rate for the Dubai Celebration Chain, from the time of booking to the time of delivery.