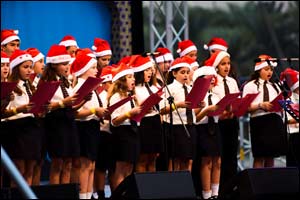 Three-day event open until Saturday with Santa Claus and snow-filled sparkle
Dubai, UAE, 12 December 2014: Dubai's biggest, brightest and better than ever festive event is now open, promising that even the worst Christmas Grinch will be won over with that special glow of family togetherness, love and cheer amidst a host of new and classic features.
The Dubai Christmas Fest has seen Dubai Media City Amphitheatre transformed into a Winter Wonderland, with snow falling on the hour, every hour, children enjoying the city's biggest snowball fight and a fantastical, magical outdoor ice rink.
Running until 10pm on Saturday 13 December, the Dubai Christmas Fest stars the one and only Santa Claus, who is ready and waiting to meet hundreds of girls and boys to find out what they would like for Christmas. Ably assisted by his team of little elves, Santa's Grotto has been decorated head to toe by everyone's favourite chocolate brand, M&M's.
Over on the main entertainment stage, one of this year's biggest draws is Aladdin and Genie's Christmas Adventure pantomime. There are only a few remaining tickets left for the daily shows, so parents are advised to move quickly in order to treat their children to a performance filled with magic, spectacle, cheers for the good guys and big BOOS for the baddies!
New features this year include Penguin Bowling, a Rodeo Reindeer, a giant magical bouncy castle and a Christmas Craft Theatre, where children and adults can show off their art skills by decorating festive t-shirts and personalising Christmas tree decorations.
It will be impossible not to go home with gifts and treats this year as the Christmas Market returns with the perfect combination of over 200 homemade retailers and big international brands, all offering festive discounts and unbeatable offers.
To celebrate this year's Festive season, Crate and Barrel is back at the show with plenty of holiday inspiration and gifting ideas. Visitors will be able to find elegant home décor, festive dinnerware, vibrant silverware, glittering ornaments, handmade critters, stocking stuffers and a whole lot of holiday essentials. The magical charm of The Tree Lot experience, designed to help welcome joyful spirit into the home, is sure to be a big draw at this year's event.
Everyone who visits the show this year will be entered into a prize draw to win the Ultimate Christmas Hamper, worth more than AED10,000. It includes a gift from each exhibitor at Dubai Christmas Fest, including Crate and Barrel, C. Wonder, Lush Cosmetics, French Bakery, The Urban Yogi, Borders, The Joinery Shop, Candelite, Hummingbird Bakery, Starbucks and Monkey Sticks.
Festive food will be delivered by Dubai favourites including The Gramercy, Sumo Sushi, Pizza Express and London Fish & Chips, while French Bakery will offer individual Gingerbread Houses and Gingerbread Men for children to decorate with icing, sparkles and plenty of festive cheer.
Tickets are selling fast!Child ticketsstart at AED35, while a Gold Adult pass (AED120) will provide fast track entry, two drinks vouchers, a mince pie and a Santa's hat as well as access to all festive features. Visit www.dubaichristmasfestival.com for more information.
Dubai Christmas Fest Timings
Thursday 11 December, 4:00pm to 10:00pm;
Friday 12 December and Saturday 13 December, 3:00pm to 10:00pm
Aladdin and Genie's Christmas Adventure
Thursday 11 December, 3:00pm – 3:45pm
Friday 12 December and Saturday 13 December, 2:00pm – 2:45pm
Santa's Grotto
Open from 4:00pm to 10:00pm daily
Caption: Dubai Christmas Fest is now open at Dubai Media City Amphitheatre until 10 pm Saturday 13 December.