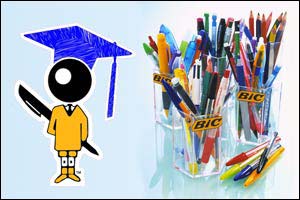 It's that time of the year again, Back To School, when another new and exciting semester is just around the corner!
One fundamental part of every successful new school term is a brand-new set of simple and reliable stationery products. Luckily, there is no need to look any further for all your stationery essentials, as the BIC® brand presents a comprehensive range to meet all of your back to school requirements, including writing instruments, correction tools, marking, coloring & drawing products, and many other items.
With the creation of its first product in France 60 years ago, the BIC® Cristal® ballpoint pen, BIC has always chosen to go straight to the core of what is essential: creating something simple and reliable, which gives ease to everyday tasks, that can be used by everyone. This vision remains at the heart of every product BIC produces. Today, BIC® Cristal is the most sold ballpoint pen in the world!
BIC continues to apply high-tech processes to improve and diversify its writing products. Everyday around the world, consumers choose to buy 25 million BIC stationery products. Be one of them and trust BIC quality to take you further!
About BIC
BIC is a world leader in stationery, lighters, shavers and promotional products. For more than 60 years, BIC has honored the tradition of providing high-quality, affordable products to consumers everywhere. Through this unwavering dedication, BIC has become one of the most recognized brands in the world. BIC products are sold in more than 160 countries around the world. In 2012, BIC recorded net sales of 1,898.7 million euros. The Company is listed on "Euronext Paris" and is part of the SBF120 and CAC Mid 60 indexes. BIC is also part of the following SRI indexes: FTSE4Good Europe, Euronext Vigeo Europe 120, Euronext Vigeo France 20, Ethibel Excellence Europe, Gaia Index and Stoxx Global ESG Index.