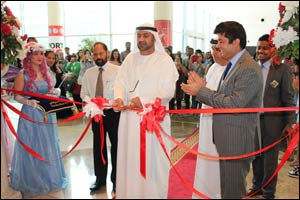 Dubai is all set to witness one of the most sought after shopping events from today to 14th of this month- The Concept Big Brands Carnival (CBBC). About 100 top notch brands will be made available to the discerning shoppers in the carnival at the Dubai World Trade Centre, Hall No 7. Announcing this in a press release Mr. Vijay Samyani, Managing Director and Founder, Concept Brands Group said the event will be open to the general public from 10 am to 10 pm.
"Shoppers all over the world are looking for high-end brands. Most of the time customers are not in a position to buy the brand of their choice on account of the high cost. We have tried to bridge this gap through our shopping fiesta where we provide the shoppers with value for their money on some of the most sought after high-end brands," he added.
"We expect a huge turnout for this edition of CBBC - Concept Big Brands Carnival since most of the people who had travelled, are now back in town. Moreover, like our previous editions, this time also there is a wider choice for customers to choose from. With attractive discounts on an amazing range of luxury products, apparels, fashion accessories, lifestyle, leather goods and personal care products, the event is expected to attract a huge the number of visitors. Over the years we have noticed a heavy demand for products including perfumes, watches, sun glasses, cosmetics, apparels, footwear, fashion accessories, jewellery, luggage, leather goods, skincare and bath line products and much more and we have ensured that all leading brands in these categories are made available," Vijay Samyani pointed out.
Some of the major brands, that will be offered in this edition of Concept Big Brands Carnivalincludes Aigner, Hummer, Juicy Couture, Hugo Boss, Pierre Cardin, Hugo Boss, Thierry Mugler, Joop, Azzaro, Cacharel, Bentley, Gucci, Fendi, Just Cavalli, Ferrari, DKNY, Guess, Fossil, Cacheral, Joop, Morgan, Tonino Lamborghini, DKNY, Michael Kors, Emporio Armani, Diesel, etc.
"Our market research has shown that the Middle East luxury market is on a growth phase. UAE, in particular, has got a very affluent consumer base. To add to this there is an ever growing number of visitors, who come to Dubai mainly to shop. For many UAE residents buying flashy high-end brands has become a way of life. Unlike their counterparts in many other countries, the UAE residents are well aware about all the leading brands and they have a penchant for leading brands. They are always looking for an avenue which will provide them with the brands of their choice. We aim to do that through our Big Brands Carnival," stated Vijay.
According to Mr. Kamal Lalwani, Brand Manager, each edition of the Concept Big Brands Carnival has seen a reasonable growth in the number of visitors. "We are expecting close to one hundred thousand customers to visit this latest edition of Concept Big Brands Carnival. With free entry, easy access by using the metro and ample parking for those who prefer to drive, we are confident that we will achieve the expected turnout for our 39th edition. We want the general public to be exposed to the high-end global brands and we want to ensure that people get the right platform to buy the best brands of the world."
Besides the regular shopping carnival, Concept Brands Group is also launching its online shopping portal named "Brandsbay.com – an ocean of Luxury Brands", wherein all the products at the event will be sold at similar rates on the website as well as inviting all the online shoppers to indulge in the wonderful shopping experience at discounted rates.
The Dubai-based Concept Group has been organizing the Concept Big Brands Carnival for the past many years. The concept is quite unique and caters to the growing luxury and fashion market with a distinct discount shopping model. Spread over a huge area with around 100 brands, the event is one of its kind shopping Carnival. The event provides discerning and fashion conscious shoppers with a unique shopping experience providing decent value for their money.