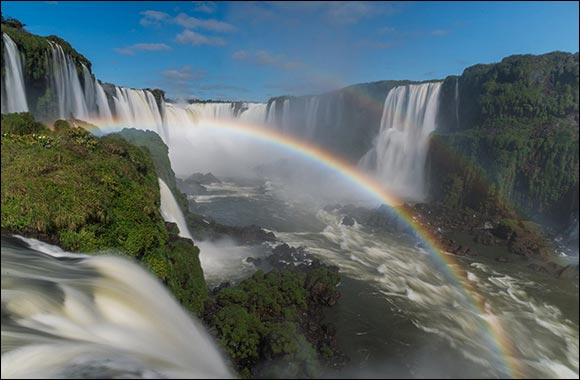 Brazil has witnessed a boom in the luxury tourism during the pandemic
Dubai, United Arab Emirates, February 18, 2022: Brazil's luxury tourism sector has experienced significant growth during the pandemic. In fact, during July 2021, Brazil recorded its best occupancy rates in history. Furthermore, a recent survey by the International Luxury Travel Market confirms this boom and found that 62 per cent of travellers to the country are spending more on luxury tourism than before the pandemic.

As a result of this luxury tourism growth, Embratur — the Brazilian Tourist Board — is highlighting numerous luxurious destination options and exclusive experiences, from the many it offers, throughout the historically rich country. These seek to highlight Brazil's rich culture, breath-taking beaches, and beautiful scenery to current and future visitors.

"Brazil is one of the best options for those seeking luxury travel as a variety of its destinations, including Paraty, Trancoso and Foz do Iguaçu present diverse experiences with unique cuisine options, rich culture, and picturesque landscapes," says Carlos Brito, The President of Embratur, The Brazilian Agency for the International Promotion of Tourism.

"Luxury hospitality and tourism is a trend that we have been monitoring closely in Brazil and found that the appetite for luxury travel increased among international tourists, and so did their spending toward more luxury. As a result, Embratur is highlighting Brazil's luxury tourism offering and drawing attention to the country's diverse luxury travel options", concludes Carlos Brito.
UAE tourists can easily explore the wonders of to Brazil thanks to direct flights connecting (DXB) and São Paulo (GRU), operated by Emirates.
Paraty
Paraty combines history, stunning landscapes, extraordinary natural beauty, and unparalleled architectural marvels which create a charming atmosphere.

Preserving its colonial architecture, the city's original architectural complex composed of several churches, the Forte Defensor Perpétuo, the Santa Casa de Misericórdia and other townhouses, is must-see.

Surrounded by approximately 50 beaches and 65 islands, Paraty is constantly crossed by sailboats, schooners, and other vessels, making it a marine haven, and one of the best places in Brazil for diving. The waterfalls that surround the city also deserve attention, such as the Pedra Branca Waterfall, Penha Waterfall/Tobogã, Toca da Ingrácia Waterfall, Iririguaçu Waterfall, Pedra Lisa Waterfall/Itaquari.

The city offers exclusive inns that present on land and on water experiences, from city tours to trails, trekking, picnics on board, speedboat rides, and waterfall bathing. The accommodations feature handcrafted mosquito nets, furniture signed by Brazilian designers and works of art by local artists, all contributing to the luxurious offering.

How to reach Paraty:

The city is 240 km from Rio de Janeiro (RIO). From the capital, tourists can rent a car or book a transfer, either by land or air. A helicopter transfer takes 60 minutes and flies over beautiful landscapes between the cities.

Toboga waterfall in Paraty

Trancoso
The colourful houses in Trancoso attract the delighted eyes of tourists who come to this magnificent piece of the South Coast of Bahia. The blue sea and the cliffs in shades of pink provide a unique landscape for visitors, and its beaches give the destination its reputation of being one of the most spectacular coastal scenarios in Brazil. The destination is filled with luxury accommodations and restaurants, with a variety of options for all tastes.

Those traveling to Trancoso are sure to experience days of intense fascination and relaxation in front of extensive stretches of sand, natural pools, and coconut groves. From sandy beaches to lively beach clubs, there is something for every kind of tourist. What all the beaches in Trancoso have in common is the wonderful sea of Bahia and the natural beauty that surrounds this region of the Brazilian coast.

How to reach Trancoso:

Located on the southern coast of Bahia, Trancoso is 77 km from Porto Seguro, where the nearest airport is located. From Porto Seguro Airport (BPS), it is possible to go to Trancoso by car, taxi or private transfer. There are direct flights departing from São Paulo International Airport (GRU).

Mirror Beach in Trancoso

Foz do Iguaçu is a city full of attractions and is home to one of the most beautiful natural spectacles on Earth, the Iguaçu Falls. The Iguaçu National Park is the biggest tourist spot where tourists can discover the immensity of the waterfalls.

The falls are a destination in themselves, but the surrounding area offers great restaurants, museums, a park with birds, and adventurous walks. The connected city still also has the advantage of being a triple border with Argentina and Paraguay, which allows a visitor to learn about neighbouring countries.

Experiences at Iguaçu are above and beyond, with exclusive hotels; restaurants offering the best of Brazilian and international cuisine; adventure tours, such as trails, hikes; and even helicopter flights over the falls. One of the accommodation highlights is staying inside the Parque Nacional das Cataratas — a stylish and sophisticated 5-star hotel. Its guests can visit the falls at times restricted to park visitors and from the hotel itself it is possible to admire part of the falls.


How to reach Iguaçu:
Foz do Iguaçu Airport (IGU) is the gateway to tourists wishing to visit the destination. There are direct flights departing from São Paulo International Airport (GRU).