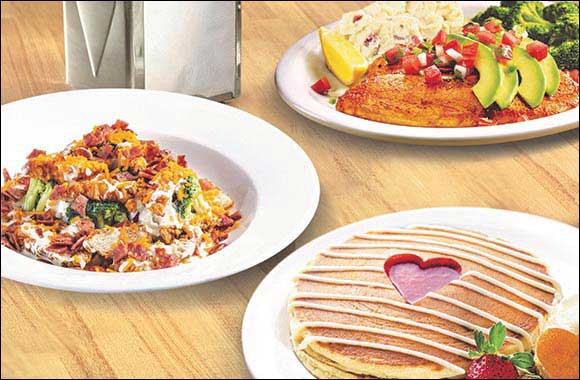 With Valentine's Day around the corner love is in the air at Denny's!

On the 14th, enjoy a fabulous 3-course dinner for 2 for just AED 119 when you dine in at any Denny's location across the UAE (Al Ghurair Center, Deira City Center, Sheikh Zayed Road, Dubai Festival Plaza, Abu Dhabi Mall).

Start your evening with a starter platter that includes delicious mozzarella sticks, boneless buffalo wings and nacho chips with queso. For the main course, you and your partner can choose from a list that includes Denny's classics like Spaghetti Bolognese, Tilapia Ranchero and the America's Diner Double Cheeseburger.
Chicken lovers can look forward to digging into Denny's famous Plate Lickin' Chicken Fried Chicken, the BBQ Chicken Skillet, the Chicken Deluxe Bowl, or the Creamy Spinach Pasta with Chicken.

There's even a vegetarian option with the Beyond Burger.

Finish off in true Denny's style with a plate of fluffy heart-shaped pancakes. What's not to love?

See you at Denny's!