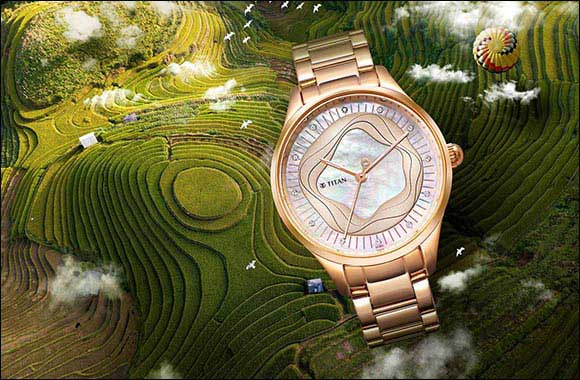 Titan Wander watches inspired by women who love life, adventure, and fashion

Dubai, United Arab Emirates: Journeys change a person's perspective in so many ways; how they view the world and how they approach life.
Designed to broaden horizons and act as a beautiful reminder of one's most memorable journeys not to mention those on your wish list, the latest women's watch collection from Titan Watches is a must-have accessory for anyone who covets the outdoors and jet-set lifestyle.

Titan Wander is inspired by and designed for fashionable, independent, bold, and dynamic women - the ones aspiring for Journeys beyond travel. Women who love adventure, trying new things, aren't afraid to be themselves, and are looking for the perfect accessory, will covet the collection's premium look and feel.
Featuring watches in three distinct yet timelessly elegant styles - Form, Flow, and Mosaic, the collection is a beautiful celebration of the colours, prints and patterns one sees when you give into wanderlust. Not to mention hues, materials and finishes inspired by the natural beauty one sees in mountains, valleys, on land and at sea.

The inspiration behind the layered dial in the Form style is the contour lines that represent the gentleness or steepness of slopes seen from above. With a stunning mother of pearl dial, studded crystals used as indices and hands with a lume filling, this watch is the perfect accessory for the hiking aficionado who is equally comfortable in boots as she is in heels as she goes out to explore.

Wave patterns made by the movement of ships and boats can be seen on all the watches in the Flow selection, where the sheer scale at which these are formed is being celebrated. Added glamour comes from the studded crystals on the bezel ring, the solid metal indices, and the elegant leather and mesh straps. A significant detail of this watch is the date function represented in the form of a boat, certain to be appreciated by the more playful in nature.
The site plan of any city with its roads, buildings, green areas, and water bodies looks like a beautiful Mosaic, and Dubai is what this selection pays homage to. The top half of dial has glistening mother of pearl to depict the sky, whilst the bottom half has the city's site map, with the iconic Palm Jumeirah a particular highlight. A perfect gift for the quintessential Dubai Diva!

"Titan's incredible design team has transferred your wanderlust to timepieces that do not just signal the wearer's lifestyle but allows them to live vicariously through their watches. Every watch in this collection is meant for women who have travel always on their minds – either in their memories or on their wish list. The collection represents journeys beyond travel and a larger perspective of life that one seeks," said Vandana Bhalla, Marketing Head-International Business Division, Titan Company Limited.

Prices for the Titan Wander collection start at AED 295 and the watches are now available at Titan retail outlets across UAE, select Hour Choice stores, leading department stores, online marketplaces, and authorized retailers.