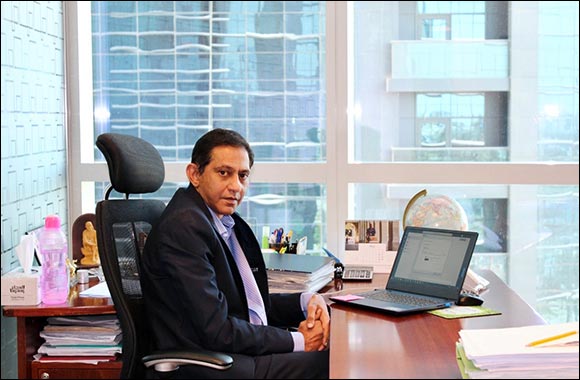 L1 non-immigrant visa helps foreign companies to deploy their executives to visit and work in the United States legally, carry on with business and wealth creation activities

Date: Dubai, UAE, November 09, 2021

Sternon Group, a Dubai-headquartered global diversified conglomerate, has started visa advisory services for UAE-based entrepreneurs, senior executives and managers – who want to relocate to the United States under the L1 non-immigrant visa programme – that allows them to live in the USA and work in their company's affiliate branch office in the USA for upto 5-7 years.

This will help GCC businesses to explore opportunities in the United States. Sternon Group's well-trained professionals are at hand to offer expert advisory services to GCC businessmen, professionals to set up branches in the United States, relocate and help with immigration process through different visa schemes while expanding businesses in North America.

The move comes due to an increase in demand for such services among businesses in the GCC that want to expand in the United States – where economic growth is picking up.

L1 non-immigrant visa programme allows foreign companies to relocate their senior officials to the United States – live and work – and later pursue permanent residency after fulfilling certain terms and conditions of immigration.

"Most mature UAE businesses are now looking to expand their business globally. Opening a branch office in the United States and having their official deployed at the US office makes a lot of difference," Hussain
F. Nalwalla, Chief Executive of Sternon Group, says.

"We now live in a more inter-connected world, where businesses need to look at other markets, especially the United States – the world's largest economy. UAE businesses can benefit from the growing opportunities in the US, by opening branches and deploying executives to secure orders.

"Sternon Group has a strong network of legal advisers and partners who could consult and oversee the smooth issuance of the L1 Visa. For those companies, who do not have a branch office in the US, Sternon through their attorneys in US offers guidance & assistance on the establishment of a company in the US.
The real Gross Domestic Product (GDP) of the United States is poised to grow at 6 percent this year, according to the International Monetary Fund (IMF). This makes the US one of the fastest growing economies in the world this year.


The United States L1 visa is a non-immigrant visa that allows foreign companies to transfer employees under two types of L1 visa schemes. For L1 visa, transfers of executives and managers for up to seven years there is the L1A visa, and for specialised knowledge employees the L1B visa allows entry for up to five years to a new or existing US office, according to Workpermit.com, a digital news portal on international visa.

"To qualify for an L1 visa the employee, must have worked for a subsidiary, parent, affiliate or branch office of the US company outside of the US for at least one year out of the last three years," it says in a report.

"One of the benefits of the L1 visa is that there is no quota. Unlike in the case of the H1B visa category, an unlimited number of visas can be issued. However, unless the company is a very large company with blanket filing a considerable amount of documentation needs to be submitted for each L1 visa petition to the USCIS in duplicate. Indians and Chinese nationals are able to come under the L1 visa category. They are unable to come under the E2 visa and E1 visa which is limited only to certain nationalities."

Passionate about property, Sternon Group has been in the industry for more than 25 years, with corporate offices in Dubai, USA and India. It continues to expand both locally and internationally, positioning itself as one of the most valuable property groups in the world.

Sternon's agents not only prioritise the personal relationship with their clients, but also recognise the importance of finding the right solution for them – be it business opportunities, visa requirements or finding a suitable home. It's all about trust and security that create and enhance the value of its customers.

Abizer Nalwalla, Business Development Manager of Sternon Real Estate, says, "We have a strong presence in the United States including office, properties, assets, projects as well as a network of legal advisors and business advisors – who work closely with clients through their attorneys in US to fast-track their legal procedures.

"With our teams in Dubai, New York and Florida, we are able to offer our customers end-to-end services and help businesses and people realize their dreams."