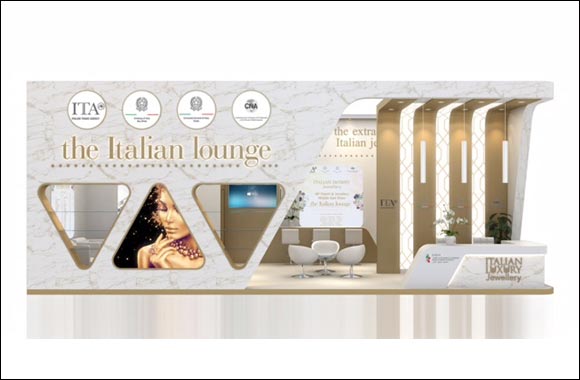 With a focus on expertise and innovation, Italian producers are finding a strong market in the UAE
Dubai, UAE; 4th October 2021: Renowned for producing pieces of the highest quality, using innovative methods and offering exclusive and aspirational designs, the Italian jewellery industry is going from strength to strength in the UAE with recent figures showing exports increased by 125 per cent in the first six months of 2021 to Euro 448 million, compared to the same period in 2020, and by + 4.25% compared to pre-pandemic times (2019).
The Italian Trade Agency and CNA (Italian Confederation of Craft Traders and SMEs), in collaboration with the Embassy of Italy in the UAE and the Consulate General in Dubai, present 47 companies showcasing their latest jewellery collections at the upcoming Watch & Jewellery Middle East Show Sharjah. The UAE is one of the fastest growing luxury markets in the world, estimated at 7 billion Euro, powered by high spending residents and tourists.
His Excellency Nicola Lener, Ambassador of Italy to the UAE said, "I welcome with great pleasure the huge participation of Italian companies to the Watch & Jewellery Middle East Show, the most relevant regional appointment of these sectors, which confirms the leadership of the UAE as a specialised international hub and final market for Italian productions in the Gulf area. Despite in 2020 the local jewellery market decreased by 86 per cent due to pandemic consequences, the Emirates demand has been growing in these latest months with great benefit for Italian companies: during the first five months of this year, Italy enlarged its market share (from 7.01 per cent in 2020 to 13.05 percent in 2021), increased its export by 97.9 per cent and fostered its position as the third supplier to the UAE, after India and Turkey.
"An excellent result, which reflects the extraordinary artisanal, industrial and designing know-how of Italian stakeholders and that we are strongly committed to foster and further develop to offer new opportunities to our companies."
Amedeo Scarpa, Italian Trade Commissioner to the UAE said, "We are very proud to have doubled the number of Italian Exhibitors at the Watch & Jewellery Middle East Show, Sharjah. Most of Italian exhibitors are SMEs targeting the luxury UAE jewellery market for decades. Their assets are design, reputation, innovation and sustainability. In the year of Expo 2020 Dubai, Italian jewellery will connect people as well as Italy "beauty connects people" at Italy's Pavilion.
"Jewellery is the most important product exported to the UAE and represents 12 per cent of our export towards this very important trade hub."
Antonio Franceschini, CNA Head of International Market and Trade Promotion Office said, "Italian jewellery products are appreciated all around the world for their design, quality and craftmanship, and 'Made in Italy' is becoming more and more popular in the Middle East. Thanks to the collaboration with the Italian Trade Agency, we are giving 47 Italian jewellery producers the opportunity to step into this market and to showcase their creations to the local consumers."