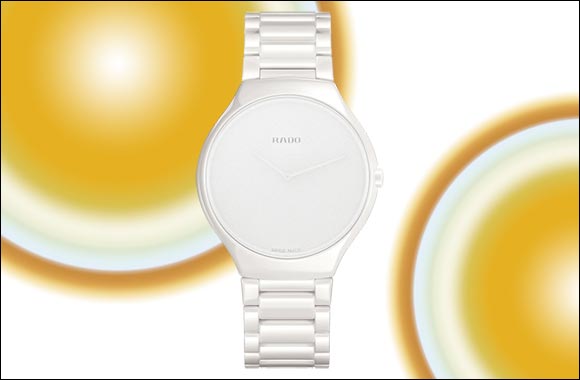 September 15, 2021: With her concept for the Rado True Thinline Stillness Lidewij Edelkoort has proven once again to have a seismographic feel for socio-cultural trends. Her idea to express people's increasing need for sustainability, stillness and clarity in the form of a watch has now been honoured with the Green Good DesignTM Award: the renowned prize was awarded to the first timepiece that Rado and the Dutch trend forecaster have created together.
The Green Edition is part of the historic Good Design® award programme. Under the Motto "Build a Better World Now" the programme honours exceptional architecture and product designs that use a "green" concept to follow new paths toward a more sustainable environment.
Now Rado and Li Edelkoort, who have known each other for many years, have taken just such a new approach. The flowing forms of the ultra-thin Rado True Thinline in high-tech ceramic served as a model for the unconventional new watch. With the True Thinline Stillness, drawn entirely in white, to check the time of day is a conscious, contemplative act. Li Edelkoort describes this as "knowing, and at the same time forgetting, that time is in our hands." The idea is "to free us from the hectic pace of everyday life by extending our awareness for a second, recognising the grandeur of a minute and the empathetic nature of an hour."
While the design of the product focused on the desire to slow things down, the packaging was driven mainly by sustainability issues. Its main component, for example, uses recycled plastic in the form of a small box that doubles as a travel case, exemplifying the idea of reusability. It is accompanied by a card holder made from black cardboard, while a QR code replaces the usual instruction booklet.
Li Edelkoort is convinced that in the future many consumers will choose to buy fewer, but more beautiful and long-lasting products. In this respect the Rado True Thinline Stillness can certainly be seen as an interpretation of the "less is more" design concept, which complements Rado's product philosophy. As "Master of Materials" the Swiss watchmaker works with long-lasting, scratch-resistant materials and timeless forms with a sensual look and feel. The True Thinline Stillness is 39 mm in diameter and has a
5-mm thin off-white case with a frosted sapphire crystal case back featuring the words "STILLNESS / Lidewij Edelkoort / SINCE 2020". The white dial appears under a domed white frosted sapphire crystal. White hour and minute hands, a transparent Rado logo and a high-tech ceramic bracelet in matching white complete the entirely monochromatic look.