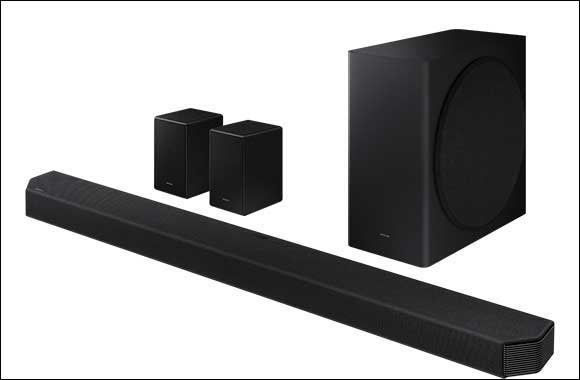 August 19, 2021: With ground-breaking innovations and cutting-edge technology advancements emerging at every turn, consumers are regularly being introduced to a whole new world of possibilities. And for those that have discovered a passion for home entertainment in recent times, visual journeys are set to become even more immersive, exhilarating, and enjoyable through Samsung's next-generation sound devices.
As the popularity of smart TVs scales new heights and over-the-top services become more in demand than ever, sound devices have been hugely influential for countless consumers. Effectively the missing piece in the home entertainment jigsaw, Samsung's innovations in the sound space have delivered immeasurable value for millions – adding the finishing touches to the home cinematic package while ensuring every consumer is empowered through premium visual and audio experiences.
With this in mind, anticipation has been at an all-time high among consumers in recent months, with countless people eager to witness how the brand's newest releases would surpass the success of their predecessors and break new barriers in the world of sound. Now, as the all-new Sound Tower and Samsung Soundbar range make their long-awaited market entry, we assess how both these options will do exactly that.
Precise and powerful in equal measure, these innovations are sure to become established "essential purchases" almost overnight. Already, they have received plaudits from tech industry critics, and will bring pleasure to millions of brand enthusiasts. Here, we explore the enhanced functions that have drawn praise from all parts of the tech universe and will ultimately take immersive listening to a whole new level.
Introducing Samsung's Sound Tower
Sound is integral to memorable experiences in all walks of life. Now, Samsung consumers can listen to sound like never before as they watch content and socialize with their nearest and dearest thanks to the Sound Tower. Unique and unrivaled in terms of its durability and multi-purpose capabilities, the Sound Tower is designed to ensure powerful sound is seamlessly compatible with Samsung's widescreen TVs and any social surroundings – with bi-directional and dominant sound replicating the scene of a vibrant nightclub with high power of 1500W. Thanks to this feature, music is the essence when it comes to epic parties, with the Sound Tower sure to leave everyone completely captivated in the moment.
Consumers can also upgrade the quality of any home interior or future social gathering with the Sound Tower's stylish and innovative design, while the product's built-in 10-inch woofer produces the most powerful, unprecedented bass beat that nobody has ever experienced before. What's more, the Sound Tower is also accompanied by LED party lights and Bluetooth multi-connection, as well as group play and DJ effect functions. Available in three models – including the highly anticipated MX-T70 – the Sound Tower promises to provide a host of simultaneous benefits through these next-generation features and this latest innovation will ensure home entertainment and party lovers experience sound like never before.
Become acquainted with latest Soundbar range benefits
Samsung's soundbars and TV models elevate cinematic experiences, delivering stunning sound that tunes into users' viewing environments by analyzing the dimensions of the space they're in using SpaceFit Sound+. SpaceFit Sound+ combines SpaceFit Sound technology, which delivers optimized audio, and Auto EQ (auto equalizer) technology. Together, the SpaceFit Sound and Auto EQ solutions use embedded microphones to thoroughly survey the viewing space, and then feed that data to the soundbar to enable it to deliver a tailored sound experience.

But the collaboration between the Samsung TV and the soundbar does not stop there. Samsung's innovative, proprietary Q-Symphony technology additionally combines and enhances the sound generated by the TV and soundbar to guarantee optimal sound quality. Normally, when you connect a soundbar to your TV, the sound is emitted only from the soundbar. What's more, some technical issues involving out-of-sync sound and tone disparities between the two devices had been observed. Q-Symphony overcomes these issues by incorporating a stereoscopic sound effect that allows sound to play through the speakers of both the TV and soundbar, providing a richer and more realistic sound experience.

While Samsung TVs offer incredible sound from the tiniest of speakers, nothing rounds out the home theater experience like the addition of a Samsung soundbar, which can include exclusive – and previously mentioned – Q-Symphony tech, syncing audio from the Samsung TV to deliver enhanced 3-dimensional sound that ensures sound matches the visual. The soundbars even measure its environment to project audio precisely where it needs to be. In addition, the range boasts the industry's first 11.1.4 channel sound, bringing you right into the center of the action with a deep, rich, and complete immersive experience. Then there's the Bass Boost and Tap Sound features. Bass Boost allows users to add "more boom" with a simple click. For those who play music from their mobile devices, Tap Sound makes it as simple as tapping a device to the soundbar, making it easy to take full control of the listening experience.
The industry's first 11.1.4 channel sound was mentioned above, and this is such a hot topic in the soundbar world that it deserves further elaboration. With this feature, new soundbar models deliver a more advanced 11.1.4–channel set-up, providing a more vivid surround sound effect in action–packed scenes. By using only four speakers - a main soundbar speaker, a subwoofer, and two rear speakers –select soundbars produce a standard of high-quality sound that other premium AV receivers would need double the power and number of inputs to match, placing them at the forefront of attractiveness and effectiveness.