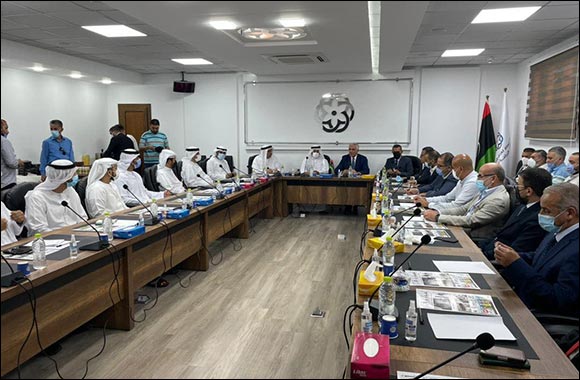 August 2, 2021: A delegation from the UAE Federation of the Chambers of Commerce and Industry (FCCI), headed by His Excellency Abdullah Sultan Al Owais, Vice Chairman of the Board of Directors of the Federation of the Chambers, and Chairman of the Sharjah Chamber of Commerce & Industry (SCCI), recently concluded a visit to the Libyan Union of Chambers of Commerce, Industry and Agriculture with the aim to enhance economic cooperation and explore potential investment opportunities in a manner that serves the interests of the two brotherly countries.
The delegation comprised His Excellency Humaid Mohammed bin Salem, Secretary-General of the UAE Federation of Chambers of Commerce and Industry, and heads and directors of a number of major UAE companies.

The visit saw the signing of a memorandum of understanding (MoU) between the two sides, with a view to supporting and stimulating initiatives and industrial and commercial activities between private companies and institutions and enhancing bilateral cooperation in various economic fields. The agreement also aims to strengthen coordination and communication between the chambers of commerce in both the UAE and Libya in order to forge promising business partnerships and create appropriate trade opportunities for business communities in both countries.

Speaking on the visit, Abdullah Sultan Al Owais stated that the UAE is determined to develop relationships with sisterly Libya, especially the economic and investment relations, affirming that the visit and the agreement clearly reflect a genuine desire from both sides to exchange views on how to benefit from the potential, experiences, and facilities each side provides.

In light of the diverse investment opportunities that can be translated into feasible economic projects, we look forward to raising the level of joint work and expanding the partnership between the private sector companies in both countries. This would contribute to achieving common interests and doubling the volume of trade exchange in the future, he noted.

For his part, Mohammed Al-Raeed, Chairman of the Board of Directors of the Libyan Union of Chambers of Commerce, Industry and Agriculture, said: 'Our meeting with the UAE economic delegation was very friendly, where both sides showed their readiness for the joint work in order to to achieve the interests of the two brotherly countries and enhance commercial and investment cooperation.'

He added: 'The development of the joint relations is a significant step forward on which the Libyan financial, business, real estate development, commercial, banking and transport sector wishes to be an indication of restoration of trade relations between the two brotherly countries, in light of the important economic, investment, and developmental weight of the UAE in the region.'