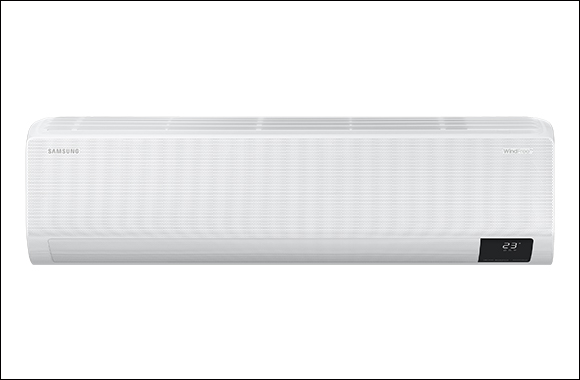 Samsung's WindFree™ cooling technology keeps you pleasantly cool without direct exposure to wind

June 22, 2021: As temperatures increase and more time is spent indoors, continuous, direct exposure to air conditioner's cold wind can dry out the respiratory system, making some consumers more sensitive to illnesses. Samsung Gulf Electronics' WindFree™ Air Conditioner's WindFree™ Mode was developed to alleviate this inconvenience. The air conditioner features 23,000 micro air holes, which gently disperse the cold air evenly throughout a room. This way, users can enjoy a cool air stream without being directly exposed to cold wind.
In a world of bacteria, gasses, allergies, and viruses – there are serious short and long-term effects associated with harmful ultrafine particles. Good indoor air quality helps a lot of people feel and breathe better. Samsung's WindFree™ Cooling technology not only keeps your room temperature comfortably in check, it also includes a specialized filter to keep the air in your home clean and hygienic.

This Tri-Care filter is made up of three layers that reduce harmful particles to help maintain healthy indoor air quality and has been certified by Intertek to reduce 99.9% of bacteria and viruses that get caught inside of it. Each layer captures large dust particles, fibers and even animal hairs, and also includes a Zeolite Coating Filter that reduces viruses, bacteria and allergens.

Save money every day with highly energy-efficient cooling
As temperatures spike during the summer months, air conditioning can be your saving grace – but it can also account for a massive increase in your energy costs. To help users save energy, WindFree™ Air Conditioner has adopted an inverter compressor – Digital Inverter Boost technology, an energy-saving innovation that reduces the device's energy consumption by regulating its own revolutions per minute (RPM) to maintain its energy use at maximum efficiency.
The air conditioner's inverter technology and its WindFree™ technology work together in a synergy that creates even higher efficiency when it comes to bringing users comfort at home. Once the desired room temperature is reached with the air conditioner's powerful and fast cooling technology, the unit switches to WindFree™ Mode, slowing down the speed of the compressor while keeping the air cool, comfortable and quiet while minimizing electricity consumption.
Inverter technology is more efficient since it simply slows down once the desired temperature is achieved and then only has to speed up slightly once the temperature goes up again, meaning that energy consumption is reduced by up to 73% compared to traditional fixed-speed type air conditioners.

Enjoy a more intelligent way of living
Samsung's WindFree™ Air Conditioners come with an AI Auto Cooling feature3 that makes it easier to stay cool. With artificial intelligence, the devices analyze room conditions, user-preferred temperatures and cooling modes, and even the climate outdoors to automatically switch to an optimal room setting. The unit also features a Motion Detect Sensor that will register when there is no one in a room, subsequently switching modes automatically to reduce energy waste.
WindFree™ also works with the SmartThings app, so users can turn the air conditioner on and off, schedule operations, switch settings, and even monitor power consumption remotely from their smartphone.