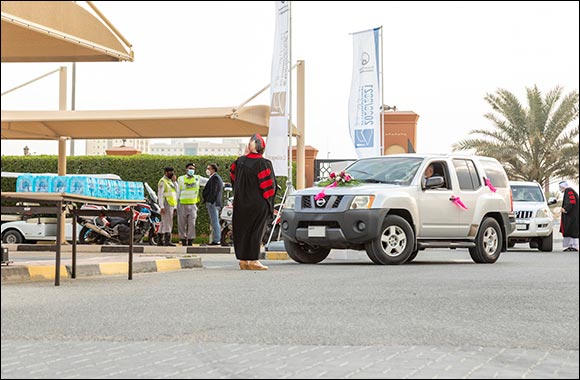 More than 750 AU graduates will be honored in a pulsating drive-through commencement ceremony
Ajman, United Arab Emirates, 31st May 2021: Ajman University (AU) will celebrate the graduation of 766 of its outstanding graduates in an attractive drive-through ceremony, to be held at AU campus from June 1-3, 2021. This is the second time that AU is organizing such a drive-through ceremony for its graduates this year. At a time where most universities around the world are holding virtual graduation ceremonies due to the covid-19 pandemic, AU has continued to choose this exceptional and creative way to ensure that students enjoy the culmination of their year-long academic efforts in a way that is not only safe but memorable as well.
The graduates will embark on their new journeys with degrees from different specializations and Colleges at Ajman University.

To ensure students' safety, all graduating students attending the drive-through ceremony will be required to take the Covid-19 DPI test. The DPI tests are available for free to all graduating students at AU's Covid-19 Testing & Vaccination Center on campus in Sheikh Zayed Center.
Graduates can collect their graduation gowns beforehand as well as masks. After receiving a negative DPI test result, students will be given a sticker to fix on the windshield of their cars. As the ceremony begins, students will follow the signs to honoring venue in Je where the ceremony will be held.
Commenting on the ceremony, AU chancellor, Dr. Karim Seghir, said: " students along with the faculty and staff have been braving this pandemic for almost a year and half, so this is not only an opportunity to celebrate with our graduates, it is an opportunity to support one another. What students did was not easy, so all our graduates will truly wear their caps and gowns like suits of armor . Thanks to their courage. This moment belongs to you students & your families".
Dr. Seghir added, "Congratulations to all graduates and their families. If we have learnt something from the current challenging situation, it would be showing empathy and compassion, and to use our strengths and talents in the best way that we can."