- Al Safa Art & Design Library participates in the activities of the 12th edition of Sharjah Children's Reading Festival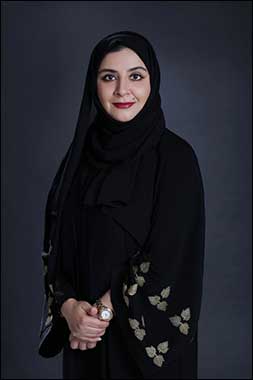 Dubai, UAE, 22 May 2021: Dubai Culture and Arts Authority (Dubai Culture) announced that it will host a series of cultural sessions as part of the Sharjah Children's Reading Festival (SCRF) at Al Safa Art & Design Library from 19 to 29 May, in line with the importance Dubai Culture associates with libraries as knowledge, educational and entertainment destinations, enhancing the public's relationship with these libraries as well as enriching their knowledge of matters relating to children's literature.

Eiman Al Hammadi, Acting Manager of Libraries Affairs Section at Dubai Culture, stressed that this step aligns with Dubai Culture's keenness to continuously cooperate with all cultural entities in the UAE and support the events they organise by making its public libraries available for specialised workshops. This contributes to spreading knowledge and refining the writing skills of young talents, stressing that this supports creative talents in various literary fields, especially children's literature, which is in line with the pillars of Dubai Culture's 2020-2025 strategic roadmap.

Al Hammadi added: 'Such educational sessions seek to increase the productivity rate of content across various fields of writing, especially literature for children and the youth, who represent a pillar of a future knowledge society capable of leading the process of sustainable development in the emirate, which contributes to achieving our vision of strengthening its position as a global centre for culture, an incubator for creativity, and a thriving hub for talent."
Khoula Al Mujaini, General Coordinator of the Sharjah Children's Reading Festival, emphasised that the 2021 edition of the festival has expanded its outreach to other emirates and the eastern coast cities of Sharjah in line with SCRF's vision to enable a wider audience to experience the very best of literary and intellectual discussions held as part of the 11-day cultural extravaganza.

By leveraging the knowledge and expertise of children's book authors, illustrators, and publishers at the festival, Al Mujaini said that SCRF also seeks to translate Sharjah's vision as a World Book Capital city to develop the capabilities of children and young adults and enhance their contributions to UAE's inclusive development process.

Al Mujaini said: "Extending the outreach of our cultural activities brings to fruition Sharjah Book Authority's committed efforts in collaborating with a host of prominent cultural entities across the UAE. SBA firmly believes that collaborative cultural action has strong and positive ripple effects and that fostering the knowledge and creativity of the young generations is the inclusive responsibility of all like-minded organisations. 'Audiences are keenly anticipating four educational workshops, taking place at the Al Safa Art & Design Library, that seek to develop the cultural skills and creative ideas of emerging literary talents and inspire them to explore the worlds of children's literature and the art of writing.; the library is an inspiring space for creativity and an ideal platform for stimulating knowledge and developing talent. The Authority called on various community members, citizens and residents to participate in these workshops and embark on a rich narrative journey."

The first workshop, titled 'Bringing Stories to Life,' will take place on 22 May from 4 - 5 p.m., where Dr Lamia Tawfik will host writer Claudia Rueda and novelist Eltayeb Adib in a session that will address the influence a child's personality has on their choice of favourite books and how these characters help the authors tell their stories.

On 23 May 23, the Al Safa Art & Design Library will host writer Matt Lamothe and Emirati artist Aysha Al Hemrani in a session titled 'Digital Illustrations,' moderated by Emirati poet Shaikha Almutairi to highlight the methodologies of digital illustrations within children's books, the time required to create them, and what distinguishes them from other traditional graphics.

Under the title 'Stories and Pictures,' taking place on 25 May, Laila Muhammad will host writers Claudia Rueda and Faraj Al Dhufairi to discuss the motivations behind writing picture books, the skills these books require, the age stages associated with writing and producing them, as well as what distinguishes them from other non-illustrated books.

Ambika Prokop and Emirati novelist Fatima Al Mazrouei will also participate in the "Cultural Sustainability" session that will be held on Thursday 27 May from 4 - 5p.m. The session will discuss how writing contributes to presenting foreign cultures in ways that are meaningful to children, in addition to the means to addressing relevant topics of interest, such as sustainability and climate and environmental changes in children's literature as well as ways to make the interesting and enjoyable.

Dubai Culture launches many programmes in its public libraries through which it provides a spacious and safe environment for children, allowing them to refine their talents and enhance their scientific, artistic and life interests. Dubai Public Libraries provide a range of distinctive services that include information, guidance, reference services, external and internal loaning of books and references, periodicals and newspapers. The library also provides advanced and fast electronic services that meet the desires and needs of the public in the fastest and easiest way to access and retrieve as much information as possible. It also includes an automatic search service, a library database, information databases, internet service, multimedia service, as well as support services that include multi-purpose halls, among many other public services.