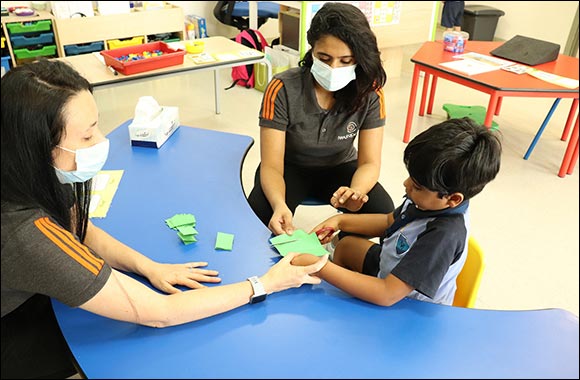 • New Unity Class follows an adapted curriculum that supports play-based learning
• Class focuses on children's strengths, helping them face their individual challenges
• Students and families benefit from having all supportive services in the same place
Dubai, United Arab Emirates - May 19, 2021: GEMS Metropole School – Motor City has introduced a new Unity Class in partnership with Neuropedia Children's Neuroscience Center to provide additional support to young students with more significant special needs.
The Unity Class follows an adapted strength-based curriculum that embraces specialist therapy in which students are effectively included in all aspects of the school journey through a play-based and child-led learning environment.
The incorporation of multi-disciplinary services, such as speech and language therapy and occupational therapy, provides an integrated offer for families, eliminating the need to access therapy services that are isolated from and located outside the child's school.
In line with the Dubai Inclusive Education Policy Framework, the new Unity Class extends the provision available for Students of Determination within the private school sector, with the partnership with Neuropedia enhancing GEMS Metropole School's ability to cater to a more diverse cohort of students.
Naveed Iqbal, Principal of GEMS Metropole School said: "The knowledge and skills sharing enabled through this partnership is further extended to provide guidance to families on how to support their children at home and enable them to succeed at their own pace. Young learners will develop important skills such as problem solving, critical thinking and resilience to help them secure strong progression in their educational careers. They will also be equipped to become independent in their lives after school. The vision driving our inclusion provision is 'happy learners are effective learners'."
Dr Arif Khan, Medical Director and Consultant Paediatric Neurologist said: "This partnership will provide children with special needs access to a structured academic curriculum along with the added advantage of having all the therapy and supportive services within the same space. The Unity Class is a unique concept of a structured inclusion programme with special emphasis on students' emotional, educational and behavioural development."
The Unity Class teacher is an expert in special educational needs and disabilities, while the Neuropedia therapy team comprises a speech and language therapist, occupational therapist, paediatric and educational psychologist, clinical psychologist, applied behavioural analysis (ABA) therapist. There is also support provided from the wider Neuropedia team, including a paediatric neurologist and neurodiagnostics practitioner, paediatric physiotherapist, paediatric feeding therapist, clinical geneticist and Paediatric Orthopaedist. All practitioners work closely together to support individual student programmes as required.
Four-year-old GEMS Metropole student Youssef Ibrahim, who is enrolled in the Unity Class, said: "I like my class and I like my teacher because she is a nice teacher. I like when Ms Praise and Ms Majel come to play in the class. We have lots of toys. My favourite toy is the train track."
Youssef's mother, Mrs Samia Bitam said: "He tells me every day that he loves his teacher and loves his class so much. He also keeps saying he would like to sleep in school and wants his colleague Ryan to come on a playdate."
Mrs Bhuvaneswari Dharmarajulu, mother of four-year-old GEMS Metropole student Ryan, said: "We are really happy that our child is settling well, and he is keen to go to school every day, which is a plus. We see that having an ABA session every day is a good platform for Ryan's intervention. Receiving support and updates from the class teacher in particular is very positive and we are thankful for that."
GEMS Metropole students also have the opportunity to engage with the school's pet canine, Lotus, who plays an important role within the school as an 'emotional support animal'. They can also participate in all facets of the Early Years Foundation Stage (EYFS) curriculum, with access to farm and gardening activities, physical education and phonics, as well as social behaviour development via outdoor playtime, and exposure to diversity and language improvement.