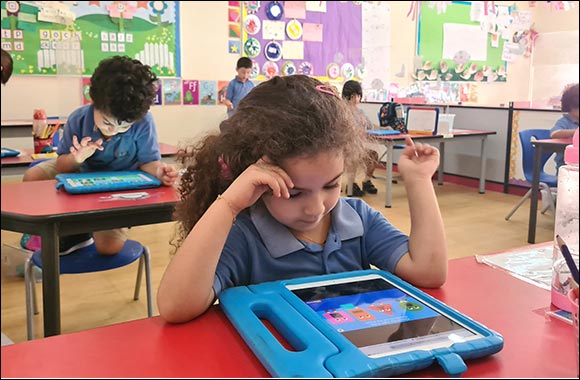 ● Star International School Mirdif's Early Years Foundation School (EYFS) registered a staggering growth of 45% this year
● The school's facility has been praised by the DHA and KHDA authorities for adhering to the highest Covid-19 safety standards
● School introduces "Log In and Learn" 15-minute online sessions to familiarise the public about the school without the need to visit

29 April, 2021, Dubai, United Arab Emirates: Star International School Mirdif, a bespoke family-oriented and research-driven British curriculum school in the heart of Mirdif, recently launched its "Log In and Learn" initiative, which is a series of 15-minute long online sessions for potential and newly-enrolled Foundation Stage (FS) students, as part of its latest efforts to adapt to the current challenges posed by Covid-19. This initiative was rolled-out to further reassure families still deciding on whether it is safe to re-introduce their children back to school, through showcasing all the top safety measures and protocols that Star International Mirdif is enforcing to harbour a safe yet stimulating face-to-face learning environment.

"Log In and Learn" is an engaging series of video-based lessons dedicated to the greater public with the intention of spreading Star International Mirdif's community-focused ethos across the city of Dubai. The short yet informative online sessions have been devised to provide parents and children - three to four years of age - a glimpse about the school from different angles - facility, teachers, subjects and classroom learning environment- without the need for a physical tour. The "Log In and Learn" initiative is further supported by the application of fun activities and conversation points which include reading, drawing and dancing that children and parents can have together.

With "Log In and Learn", Star International Mirdif is paving the way for a Covid-friendly learning approach and the opportunity to educate potential EYFS students with everything that the school has to offer, while allowing for an immersive experience into the school's educational ecosystem. As a Covid-19 inspired initiative, the 15-minute lessons will eliminate the need for students and parents to visit the premises and interact with others, creating a safe opportunity for those looking to gain more knowledge about the school, without the physical risk involved.

Commenting on Star International Mirdif's latest initiative, Principal Gill Roberts remarks: "We are proud to be at the frontline of forward-thinking schools that are looking to adapt and rise above the current challenges of the educational field with Covid-19. What can be described as a digital version of an 'open-house' day, "Log In and Learn" was also designed to bring our sense of community to students and parents, eliminating the need for physical visitations and interactions." This initiative will not only assist in making the admissions process contactless but also help children easily transition into a comfortable school environment, with excellent safety measures that are highly appreciated by education regulators and parents alike."

Relatively, Star International School Mirdif has witnessed surging success year-over-year with its Foundation Stage enrollment. Since the start of the new year, the school has grown exponentially within just six months of operation by a rate of 45 percent, with a new FS1 class opened for term 3. "Even with the anxiety that the Covid-19 pandemic has brought amongst parents and the larger community, Star International Mirdif has still witnessed very promising growth within its EYFS sections," added Gill Roberts.

Continuing its endeavor to uphold the highest Covid-19 safety measures for pupils and parents at the school, Star International Mirdif has recently been praised by the DHA and KHDA authorities for adhering to the top safety standards and adopting the strictest precautionary measures. There are a total of 118 protocols which have been put in place by the school to harbour a Covid-free learning environment, which range from social distancing of tables, introduction of chromebooks to Years 3 and above and the installation of desk dividers to allow pupils to interact socially yet safely. Additionally, the Star International School Mirdif has introduced new and fun social distancing artwork for EYFS students to enable them to learn about why they need to 'maintain social distancing' in an age-appropriate manner. Star International Mirdif has also ensured that it sustains a smooth drop-off and pick-up timetable to avoid congestion, cleaning timetables to enhance the regularity of disinfection, conducting sterilisation sessions every weekend and introducing external interactive webinars that are focused on educating students about good hygiene for a healthy life.

"Since the start of this academic year, Star International Mirdif has tirelessly worked to ensure that it adheres to the latest WHO and local authority health and safety measures for students studying at our premises. Last month, as an example, we celebrated a week of "zero Covid-19 cases". When we consider the fact that there are approximately 900 people in our school community of students and staff members, we think this is quite impressive and this just reinforces our continuous commitment to make the learning environment at Star International Mirdif as safe as possible for students and staff," added Gill Roberts.

The reason behind Star International Mirdif's staggering growth over the past few years is credited to its excellent reputation particularly across its Foundation Year sections, which has been consistently shown through its exceptional quality of teaching and smoothness in transition. This has been well-demonstrated through the school's latest innovative digital learning initiatives and state-of-the-art programmes during one of the most uncertain times with Covid-19, when authorities are demanding schools to adhere to newly stipulated online and offline rules and regulations..