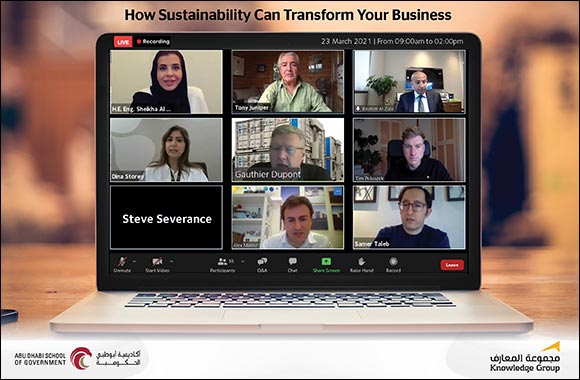 • The event theme was "Responding to the call: How sustainability can transform your business" and aimed to explore the triple bottom line and sustainable development goals
• More than 150 individuals joined the event and attended its different sessions
Abu Dhabi, United Arab Emirates—28 March 2021: Knowledge Group (KG), the training, development, and consulting arm of Abu Dhabi University (ADU), in collaboration with Abu Dhabi School of Government, an affiliate of the Department of Government Support Abu Dhabi, held its virtual Knowledge Day this week, through which it addressed the importance of sustainability to businesses.
The event took place under the theme "Responding to the call: How sustainability can transform your business" and aimed to explore the triple bottom line and sustainable development goals in relation to sustainability, the impact of economic growth patterns on sustainability, and the implications of strategic decisions on the environment.
Achieving great success with participation of more than 150 individuals joined virtually, the event brought together a myriad of prominent speakers from different businesses in the UAE, which included Her Excellency, Engineer Shaikha Al Hosani, Executive Director at the Environment Quality Sector of the Environment Agency in Abu Dhabi, Ibrahim Al Zu'bi, Chief Sustainability Officer of Majid Al Futtaim Holding, Dina Storey, Head of Sustainability Operations at Expo 2020 Dubai. The event also hosted local and international speakers including Tony Juniper, Chairman, Natural England, UK, Steve Severance, Head, Program Management & Marketing, Masdar City, Alex Malouf, Corporate Communications Director Schneider Electric, MENA, Gauthier Dupont, Director of Energy Infrastructure of NGK Europe GmbH, Tim Polaszekw, Collaboration Manager of Capital Coalition, and Samer Taleb, Director of Strategy Consulting at Knowledge Group.
Dr. Ahmad Badr, Chief Executive Officer and a Founding Member of Knowledge Group commented: "Business ingenuity and innovation is the primary engine of the economic growth and development needed to alleviate sustainable development challenges in the future. At a time of relentless change globally and unstoppable transformation, we must continue to seek inclusive progress and sustainability for all businesses. Knowledge Group aims to rapidly grow the sustainable provision of knowledge and skills for individuals, businesses, and governments. We seek to provide insights and solutions on economic development and environmental sustainability, in line with the UAE agenda for sustainable development."
"During our virtual Knowledge Day, our speakers highlighted the importance of the triple bottom line which consists of three components: profit, people, and the planet. A successful business will keep these three components in mind when making any decision. It is our social responsibility to protect our planet and the people living in it and not just consider our profit."
Dr. May Laith Altaei, ADSG Acting Dean commented: "In light of accelerated developments in all fields, sustainability concepts have become indispensable in all sectors, hence the significance of this forum in exchanging experiences and knowledge to enhance competencies and skills in Abu Dhabi".
"We aim at the Abu Dhabi School of Government to provide sustainable knowledge and skills to government employees to incorporate sustainability in practices, plans and visions through programs, visions, training, and continuous learning and development. These programs will advance the UAE Vision 2021 to ensure the alignment between economic development and environmental sustainability. We all have a responsibility to harmonize economic development with the sustainability of life on our planet to ensure achieving the required balance, and therefore we will continue to work with partners to reach these common goals", Dr. Altaei concluded.
Engineer Shaikha Al Hosani, Executive Director at the Environment Quality Sector of the Environment Agency Abu Dhabi said: "A Sustainable environment is at the heart of the UAE vision, with the ambitions of making the UAE the best country in the world by the next centennial in 2071. We believe that there is a clear opportunity to grow sustainably between environmental, economic and social variables through effective policymaking and as the largest environmental regulator in the Middle East, we support and work to ensure our policies support the UAE vision. We also need to maintain and build on the positive results that were achieved in the environment during the last period, with a focus on adopting green recovery approaches that respect the environment; through reducing sources of pollution to combat climate change, conserve natural resources, and protect biodiversity."
Dina Storey, Head of Sustainability Operations at Expo 2020 Dubai commented: "Expo 2020 Dubai embodies the principles of sustainable development, respecting and upholding ecological limits and natural resource constraints, encouraging prosperity and well-being, while creating the conditions for a better quality of life for all of us across the planet while supporting the UAE's journey towards a green economy."
Knowledge Group is a regional leader, with extensive experience supporting and reinforcing the operational capabilities of the Middle East and North Africa region's workforce and its private and public organizations. Since its establishment, Knowledge Group has provided solutions in training and development for over 150,000 people across more than 19 countries of operation, in collaboration with over 25 international partners.