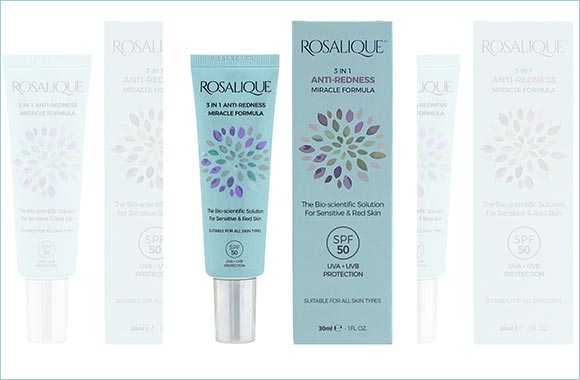 **The anti-redness cream that is set to become your new hero product**
If you have ever noticed redness on your face before you apply your makeup, you are not alone. Many of us suffer from skin sensitivities that can arise from allergies, irritations and other skin complaints including Rosacea. However, you can now fear not, as help is at hand in the form of miracle cream, Rosalique. This SPF25 cream has been changing lives globally since it launched and here are five reasons why you should give it a try too:
1. It is multi-purpose! Rosalique has a unique 3-in-1 anti-redness formula which works to conceal, treat and protect. It is the only all-in-one beauty cream of its kind that covers red and blemished skin, protects against UVA/UVB rays and soothes sensitive skin.
2. It's tried and tested! Rosalique has fast become a life changing product for thousands of women suffering from red and uneven skin tone. Adored by the likes of Trinny Woodall, Nicola Chapman and countless Make Up Artists, studies show that the product is clinically proven to soothe and calm irritated skin with 85% of women confirming Rosalique made their skin look less red immediately after application.
3. It contains SPF! Rosalique provides long term protection by way of UV filters that protect from both UVA and UVB sun rays. The SPF 25 offers protection so that skin is less agitated and irritated from long-term skin damage that UV rays can cause.
4. It can be used as a primer! Wear Rosalique alone as a moisturizer and skin correcting cream to give a lovely warm glow or use as a base under your foundation. You can fast eradicate the need to use multiple base products that can cause even more sensitivity to your skin.
5. It is cruelty-free and vegan!
Rosalique is priced at AED 195 and available from Bin Sina Pharmacies