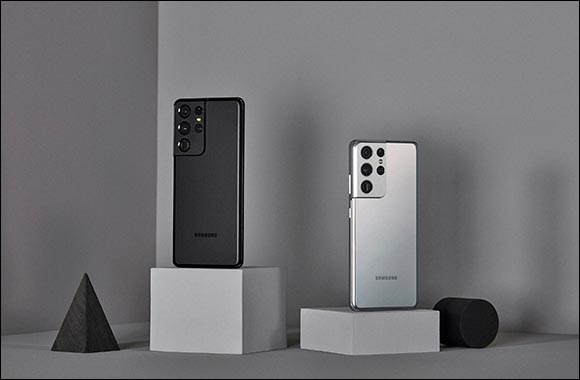 United Arab Emirates - February 13, 2021: Valentine's Day is right around the corner and consumers are still searching for the perfect gift for that special somebody in their lives. A personal favorite for many in the annual calendar, the occasion is all about showing love and brining happiness and joy to the person you love. Samsung is always happy to play its part in meaningful events, something that has been a brand tradition throughout its history. With this in mind, below we have selected Six of our best innovations, all of which will make a brilliant gift and ensure February 14, 2021 lives long in the memory:

Galaxy S21 Series 5G
What better way to treat somebody this Valentine's Day than buying the latest world-class smartphone? The newly released Galaxy S21 Series 5G empowers everybody to share the world around them and connect with the things and people that matter most. Boasting pro-grade camera and video capabilities, premium viewing, and connectivity experiences, and a bold and iconic design, the Galaxy S21, Galaxy S21+, and Galaxy S21 Ultra have been introduced to change everything and ensure everyday moments are even more epic. Whether it's the Galaxy S21, Galaxy S21+, or Galaxy S21 Ultra, each of these promise to bring happiness and excitement, and a major highlight is the most advanced camera ever to grace the Galaxy ecosystem. In addition to improved Space Zoom, every moment captured in 8K video can be transformed to 33MP resolution photos. As for the new Director's View feature, it allows you to control your video like a pro with live thumbnails. Furthermore, Samsung Knox provides peace of mind and security, the iconic Contour Camera Design adds to the irresistible appeal, and viewing experiences have never been clearer thanks to intelligent displays that provide immersion like never before.
Galaxy Note20
Today, work and play have never been more entwined, so if you're buying for someone with a dynamic lifestyle who is looking to balance the two – then we recommend the Galaxy Note20. Premium in design and elegant in appearance, the Galaxy Note20 has a 6.7 inch screen to offer enhanced immersion, with tremendous visibility indoors and outdoors. With a powerful processor, the Note20 can effortlessly facilitate speedy performance and smoother multitasking on every occasion and at any given time, effectively providing the perfect platform for newfound levels of productivity. And through Galaxy's Microsoft partnership and Microsoft 365 integration, your companion will also have the power to work at all times and be more proactive. Why? Because you can connect to a PC, transfer and edit files across different devices, and even respond to phone notifications. We also cannot forget to mention the S Pen, which enables its user to write with the precision of a real pen – straightening handwriting in the process to keep it neat and tidy.
Galaxy Buds Pro
Let's face it, the world around is far better and brighter with cutting-edge sound. If your partner is a music enthusiast or loves listening to content at home, work, or on the go, then Galaxy Buds Pro is a standout option when making your Valentine's Day purchase. These next-generation earbuds feature immersive sound, superior call quality, intelligent ANC and enhanced connectivity across your devices – all packed into a modern and sleek design. Galaxy Buds Pro represent Samsung's most premium earbuds offering to-date, built to help everybody get the most out of work, entertainment, and everything in between. Galaxy Buds Pro offer a more comprehensive sound, sporting an 11-millimeter woofer for deeper bass and a 6.5-millimeter tweeter for a crisp treble with minimum distortion – delivering our best audio experience yet with dynamic, balanced sound. Moreover, the Galaxy Buds Pro separate the users voice from unwanted sounds with three microphones and a Voice Pickup Unit (VPU), ensuring they are heard when speaking on the phone as clearly as possible. One of the outer microphones also has a high signal-to-noise ratio(SNR), further eliminating background noises.
The Serif
Is your partner in search of a lifestyle TV that meets entertainment needs and provides vibrancy and authenticity? If so, there's no other alternative to The Serif. A product that personifies tech beauty, the Serif integrates exquisite product design with QLED technology. Besides boasting AI upscaling and the Quantum Dot technology previously mentioned with the QLED TV, the appearance of any space is instantly enhanced thanks to world-renowned designers Ronan and Erwan Bouroullec. The 360 all-round design ensures the Serif fits flawlessly into any space, whether it be a shelf or a stand – which is also provided for absolute portability. Courtesy of its unique I-shape, minimalistic lines, and rounded edges, the TV provides a beautiful look from any angle and serves as a distinctive decorative piece – adding character and style. At the same time, rich imagery is displayed by the equally stunning TV. Tap view allows users to stream content straight from their smartphone, easier than ever before. The Serif is available in multiple screen sizes (43", 49", 55"), as well as in cloud white and cotton blue.
QLED TV
Buying for someone who loves home entertainment? We have the perfect futuristic TV that will provide cinematic home theatre experiences on every occasion. Our QLED TVs come equipped with ground-breaking Quantum dot technology that ensures every degree of light immediately transforming into breathtaking color. Every detail can be seen with absolute clarity, with picture quality that boasts extreme depth and bold contrast. Artificial intelligence (AI) so that users are able to enjoy a truly powerful large-screen TV experience, and our 2020 QLED 8K range features technology that configures content audio to follow the movement of objects on screen and will also change depending on obstructions or distractions it senses around the product. Furthermore, Active Voice Amplifier (AVA) technology recognizes exterior noise sources and increases the volume of the voices on-screen if the surrounding conditions become too loud, and the TV's sound sensor takes in and monitors audio from the content onscreen as well as the ambient audio from its surrounding environment.

AirDresser
Buying a gift for someone who loves to look their best and prioritizes clothing care? Look no further than our AirDresser, the innovative appliance tailor made for refreshing styles and sanitizing clothes. The appliance is a breath of fresh air in clothing care, and the innovative concept has been brought to life with several next-generation features. When clothes are in the closet, all dust particles are removed quickly and quietly, with powerful bursts of air blown upwards and downwards in the closet with the Jet Air system and Air Hangers. At the same time, the deodorizing filter captures and removes odor-causing gases on clothes and prevents them building up, so they stay remain fresh and germs-free. Meanwhile, Self Clean technology ensures hygiene and cleanliness are maintained inside the cabinet. Clothes are dried gently at a low temperature with HeatPump Drying technology, while the upper JetAir and lower HeatPump drastically improve internal air circulation and dry all items evenly for no creases.