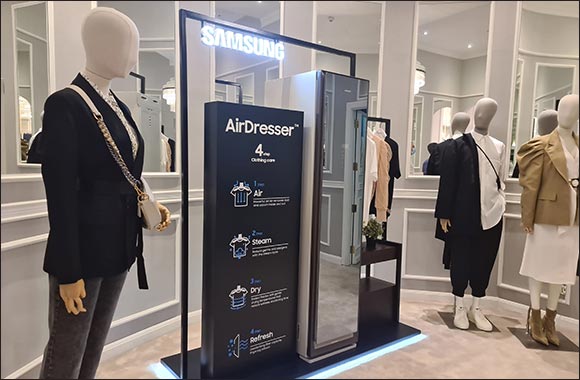 Consumers are welcome to explore the product and find out precisely how the Air Dresser refreshes styles and revolutionizes laundry
Dubai, UAE – November 23 2020 - Samsung Gulf Electronics is inviting consumers to an immersive experiential showcasing of its next-generation Air Dresser at Galeries Lafayette, Dubai Mall, on 25 and 26 November. The brand is determined to provide as many people as possible with the opportunity to explore the product up close and personal. Attendees will learn about the Air Dresser's benefits from a Samsung product expert and witness how the product refreshes personal style.
Available in the UAE through select Samsung brand shops and Samsung e-store, the innovative home appliance is a breath of fresh air in clothing care and keeps every item clean, smooth, and wrinkle-free – ensuring consumers can always refresh their style without the unpleasantries of traditional laundry.

Designed to enhance wardrobes, rejuvenate appearances, and revolutionize clothing care, the Air Dresser eliminates 99.9 percent of viruses and bacteria and 100 percent of house mites, while the deodorization filter also removes 99 percent of odor-causing gases and other harmful substances. Thanks to the Jet Air system and Air Hangers, all dust particles are loosened and removed as powerful bursts of air are blown upwards and downwards in the closet. The JetSteam function uses the powerful Jet Air system to infuse high-temperature steam deep into clothes' fabric, essentially ironing clothes so consumers no longer have to. Hygiene and cleanliness are also maintained inside the cabinet via Self Clean technology, which simultaneously dehumidifies, sanitizes, and deodorizes the space, ensuring clothes emerge from the cabinet in pristine condition.

Head down to Galeries Lafayette Personal Shopping Suite Glamour Department, Level 1, Dubai Mall, on 25 and 26 November to learn everything you need to know about the next-generation innovation! The product will be available for purchase at Galeries Lafayette soon.