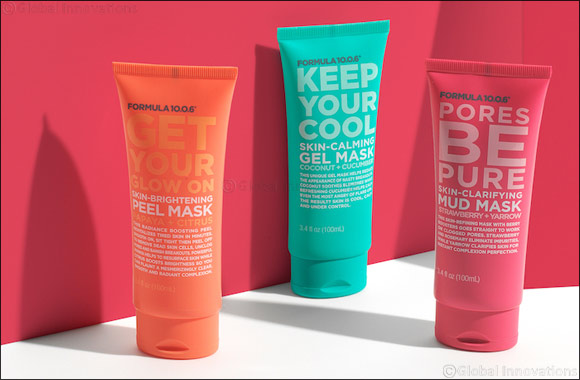 **A simple and effective skincare brand that targets troublesome skin – say hello to skin good enough to go bare! **
United Arab Emirates, August 18, 2020: There is nothing quite as satisfying as finding a product range that is specifically designed to tackle your problematic skin, as your skin starts to look clearer, plumper and more vibrant all around. But with thousands of options in the market, it can get quite tough to find a results-driven skincare line made from natural, effective and cruelty free ingredients that will promote clear and healthy skin, minus the hefty price tag!
If you've been browsing the beauty aisles for a similar product range over the years, then knowing that Formula 10.0.6 has made its way to the UAE will sound like music to your ears! The family owned business was created by a chemist in 1933 and redesigned in 2010 to match the modern consumer's taste. Formula 10.0.6 is every troublesome skin dream come true; with tried, tested and trusted formulations that are gentle yet powerful enough to ensure that your skin is getting the care it needs and better still, without the inflated price tags!
All the products are made from simple botanical driven ingredients, that are environmentally responsible and cruelty free to protect, nourish, soothe and most importantly, make your skin look and feel its best.
Here are some of the hero products from Formula 10.0.6:
Best Face Forward Foaming Cleanser with Passionfruit + Green Tea (AED 35): This fresh, foaming gel cleanser washes away oil and impurities for a sparkling, clear complexion. Green tea and chamomile pacify while passionfruit balances skin to leave you looking clean, clear and healthy every day.
Picture Perfect Day – Daily Moisturiser with SPF 15 Guava + Vitamin C (AED 35): This lightweight moisturiser hydrates and provides skin protection in one. An everyday must-have for perfectly protected and balanced skin! Super-fruit guava refines pores and promotes clear skin, while vitamin c moisturises and smooths.

Take Back Control – Oil Controlling Mud Mask Cacao + Charcoal (AED 35): This creamy mud mask detoxes skin and decongests pores to reveal maximum clean and minimum shine. Oil-absorbing activated charcoal beads are surrounded by super-rich cacao butter to keep you hydrated and smooth. It's time to take back control!

Total Take Away Skin Purifying Bubble Mask with Rhassoul Clay + Tea (AED 44): Awaken dull and fatigued skin with this oxygenated cleansing face mask. Each tiny clay bubble lifts and carries away stubborn impurities leaving your skin clean and pure.

PM Perfector – Overnight Hydrating Cream Blackcurrant + Liquorice (AED 42): This light, dreamy cream is the perfect overnight moisturizer for your skin. Use nightly for a flawless beauty sleep and wake up with smoother, balanced skin. Blackcurrant and licorice soothe, condition and nourish the skin, while cranberry rejuvenates to help prevent blemishes. Aloe and Vitamin C work together to hydrate and brighten skin all night long.
**Formula 10.0.6 products are available for purchase from www.Beautysolutions-me.com , Virgin Megastore (in store and online), Namshi.com, Lifestyle Gulf (Online) and Golden Scent (Online) – For more information about the brand and to keep up to date with their latest news and launches, follow the brand and Beauty Solutions on Instagram: @beautysolutionsme @Formula1006me